Apple Axes In-App Ads For Non-iTunes Stores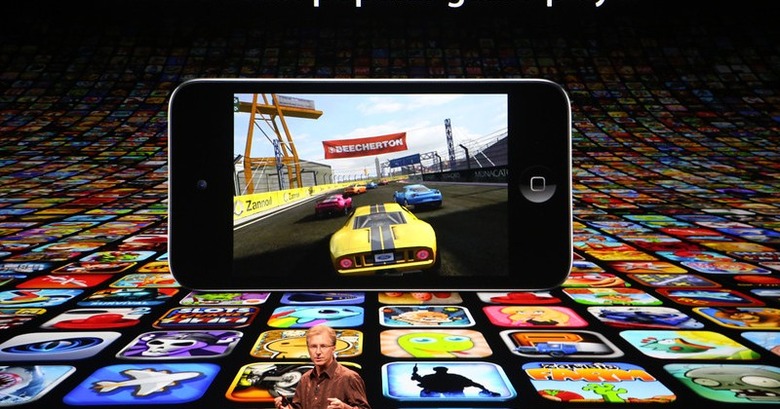 There's a clause in the iOS developer guidelines listing that has reportedly been added on the 12th of September that may well have far-reaching effects on the way game and app creators find cash outside the iTunes app store. This note says that "Apps that display Apps other than your own for purchase or promotion in a manner similar to or confusing with the App Store will be rejected." Bad news for those that come in to the iTunes app store with a free offering hoping to spur purchases for themselves in stores outside Apple's own.
With this ruling, Apple is attempting to stop users from working with the free app model only to lead users away from iTunes to purchase other wares. This solution has critics suggesting that Apple will stop at nothing to keep their ecosystem in-house. This solution also has detractors saying that such a rule will not serve Apple well, saying that anyone who was already set up to work with non-iTunes apps would already also have been looking outside the app store for their own content one way or another.
It's been suggested that this rule will shut down services such as TouchArcade because of their presentation, showing apps in a manner similar to iTunes. It would seem though that the rule instead suggests that developers not try to trick users into believing that purchases from their own site are actually from iTunes when they're not. TouchArcade shows apps in a way that iTunes would have a problem with – but only if they didn't link directly back to iTunes, not another shop.

The folks at Pocketgamer.BIZ suggest that the rule was put into place on the 25th instead of the 12th – we shall see! For those of you wondering how this will affect the non-developers of us out there – it will likely only have a good effect, especially if you're not a jailbreaking citizen. Those of you outside the traditional Apple-approved system of app distribution will be having to use those un-official search engines for real this time around.
[via Daring Fireball]