Apple attempt Nokia import block over IP dispute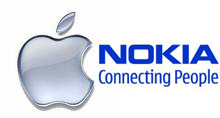 The patent battle between Nokia and Apple continues to rage, with the Cupertino company now attempting to block all imports of the Finn's handsets into the US.  The move follows Nokia's own attempt to ban Apple from importing iPhone, iPod and MacBook products in late December 2009.  Both companies have accused their rival of impinging on patents and IP.
"Nokia will study the complaint when it is received and continue to defend itself vigorously.  However this does not alter the fact that Apple has failed to agree appropriate terms for using Nokia technology and has been seeking a free ride on Nokia's innovation since it shipped the first iPhone in 2007" Mark Durrant, spokesperson, Nokia
So far the ITC – the agency responsible for handling the complaints – is yet to formally announce whether it will investigate the claims of either company.  Such investigations generally take around 15 months to complete.
[via Bloomberg]