Apple Arcade Goes Live For All: Here's What You Need To Know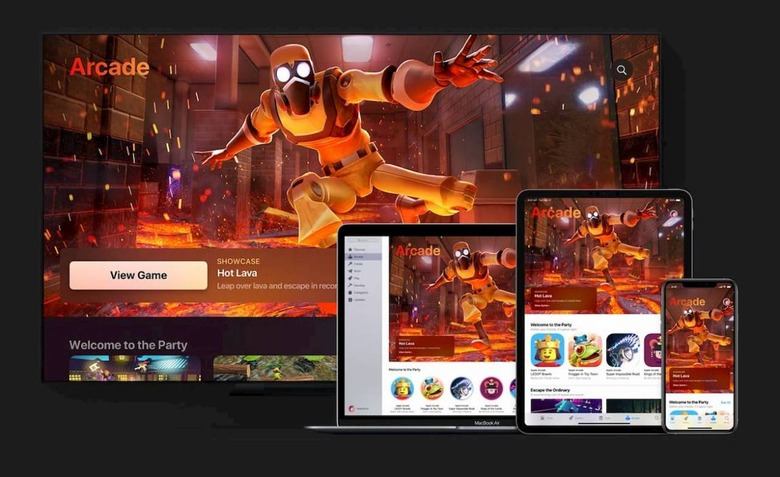 For years now, mobile games have been in something of a strange spot. Many mobile games survive by being free-to-play titles packed with microtransactions (or, more rarely, advertisements), and games that charge upfront tend to find a lower level of success than their free-to-play counterparts. Apple is looking to change the way we pay for mobile games with the launch of Apple Arcade, which has gone live alongside the release of iOS 13.
With Apple Arcade, users pay a $5 per month subscription fee to access a collection of around 100 mobile games, free of microtransactions and up-front fees. It's definitely an experiment on Apple's part, because while subscription services have worked well for console games (Xbox Game Pass, for instance, seems to be going strong), it's still a pretty new idea for the realm of mobile gaming.
In any case, Apple delivered more details about Apple Arcade during its iPhone 11 reveal event last week. In addition to revealing three exclusive games that will live on the service – Frogger in Toy Town, Capcom's Shinsekai: Into the Depths, and Annapurna Interactive's Sayonara Wild Hearts – the company also confirmed that your $5-per-month subscription includes access for up to six family members as well.
You'll also be able to download the games included in Apple Arcade and play them regardless of your internet connection. If you own multiple iOS devices, you can begin gaming on one and continue on another, and Apple Arcade also works with features like Screen Time and parental controls too.
All of that sounds pretty good, but it remains to be seen if Apple Arcade is an idea with legs – or, more specifically, if consumers are suffering from subscription fatigue. If you're on the fence and you want to try it out, Apple is offering a one-month free trial to the service, which you can redeem today to begin playing.