Apple apps, stores go (RED) for World AIDS Day 2014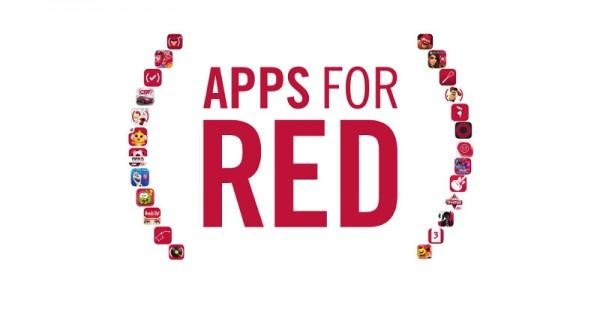 Continuing a tradition that is eight years in the running, Apple will be embarking on a campaign not just to promote awareness about the AIDS situation, especially in Africa, but also to help fund efforts in fighting the disease and helping victims survive. Starting Monday, 24th November until December 7 , a whopping 25 apps on iTunes App Store, its biggest collection ever, will have their proceeds go to the efforts of (RED) and the Global Fund. And buyers will also have something to show for their pledge, with exclusive in-app content and perks to mark the occasion.
Apple says that it has been doing this kind of advocacy for quite some time now, 8 years in fact, but the collection of apps participating and lending their hands to the cause is its largest one yet, made up of a variety of popular games and apps. All the proceeds from buying the app or a specially marked in-app purchase from November 24 to December 7 will go towards the Global Fund. The full list of apps and games include Angry Birds; Bubble Witch Saga 2; Clash of Clans; Clear; CSR Racing; Cut the Rope 2; Despicable Me: Minion Rush; Disney Frozen Free Fall; Djay 2; FIFA 15; The SIMS FreePlay; Garageband; Kim Kardashian Hollywood; Kitchen Stories Cookbook; Monument Valley; Over; Paper by FiftyThree; Puzzle & Dragons; Rayman Fiesta Run; Starwalk; The Human Body; Threes; Toca Town; Warner Bros – Heads Up!; FarmVille 2: Country Escape.
For example, during the period, Angry Birds will feature a special (RED) Mighty Feathers item, while in Clash of Clans, you can display a (RED) badge of honor to show your support. DJay 2 will have a special (RED) spin table and offer a special track, while The Human Body will have new content focusing on the immune system and HIV/AIDS. Other apps have less (RED)-specific content, but purchases will still go to the campaign, like Garage Band's new exclusive collection or Kitchen Stories Cookbook's special-edition holiday pack.
Of course, the campaign goes beyond virtual goods. Apple customers in the US who will be purchasing select Apple products on November 28 will receive a special edition (RED) iTunes gift card. For each one of these gift cards that is distributed, Apple will donate a certain percentage to the Global Fund. And on December 1, World AIDS Day itself, a portion of every sale from Apple's retail and online stores will go to the Global Fund as well. These two dates happen to coincide with two of the largest shopping dates in the US, Black Friday and Cyber Monday, respectively, so it is definitely a prime opportunity for shoppers to do what they love to do best and at the same time give to a worthy cause and help save lives.
SOURCE: Apple