Apple App Store arrives on Facebook: downloads, sharing & more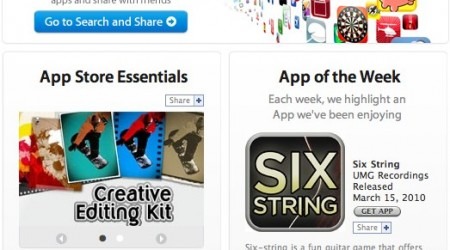 When one of the biggest social networks around gets together with probably the biggest mobile application store to-date, what do you end up with?  If you're Facebook and Apple's App Store, then the answer is even more visibility for iPhone, iPod touch and – imminently – iPad software together with the ability to share details of favorite apps with friends.
The new Facebook App Store portal doesn't offer any new titles compared to what's available on the iPod touch or iPhone today, but it does inject some new social functionality.  A "share" button, just as with photos and videos, lets users flag up titles with their friends, and there's a search feature which should make navigating the well-stuffed store a little easier.
It's also possible to download and install titles almost directly from the Facebook page, though if iTunes is installed then clicking the "Get App" button will load that up to handle the transaction.  The usual Featured and Top Paid/Free charts are also accessible.