Apple Announces New 17-Inch MacBook Pro With Integrated Battery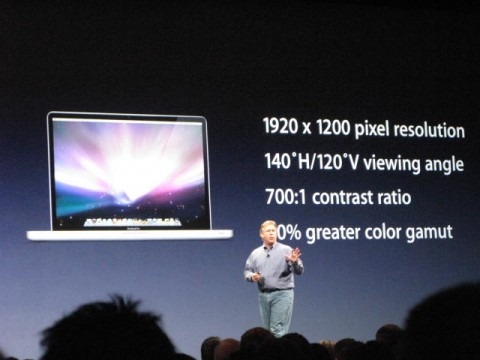 Last year was a big year for MacBooks, but Apple did not decide to stop there as they announced a new 17-inch MacBook Pro which is named the "world's thinnest and lightest 17-inch notebook" at just 0.98-inches thick. We are happy to announce that the resolution is 1920 x with a 700:1 contrast ratio that is 60-percent greater color gamut.
Some good news comes to us as many professionals do not like the glare, unfortunately the anti-glare option is an extra $50. Your all wandering about the included ports, there will be 3 USB, a mini displayport, gigabit ethernet, firewire 800, digital audio in/out and expresscard port. As to be expected the glass keypad will include four-finger gesture support.
On the inside New Core 2 Duo processors, up to 8GB RAM and NVIDIA graphics with discrete option. You also have the option of having a 256GB SSD if you wish. When speaking about the battery Phil said, "we wanted our longest lasting batter, but we wanted it thin and light." Phil went on to say, "We've designed a battery that will last 8 hours on a charge and can be charged 1000 times." The reason Apple decided to go along with an integrated battery was because removable batteries take up a lot of space and by making it non-removable, they could put a 40-percent bigger battery in the same space.
The batteries are a block rather than cylindrical cells and made with lithium polymer tech that extends life by 3x compared to rivals. There is also an intelligent chip in the battery that monitors and adjusts current allowing for 1,000 recharges of up to 5 years. The 8 hours of battery life comes from using the 9400M graphics. You will get 7 hours with the NVIDIA 9600GT. For one configuration $2,799 you will get you 2.66GHz CPU, 4GB RAM, 320GB hard-drive.