Apple announces Developer ID system for app security beyond the Mac App Store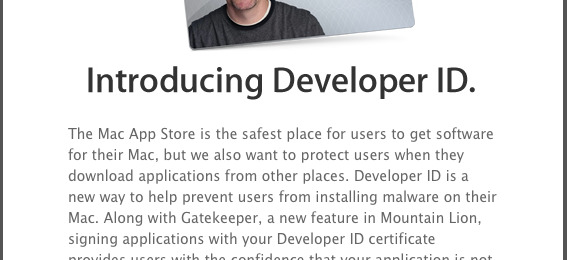 Apple announced a new program today called Developer ID that will allow third-party developers to distribute apps outside of the Mac App Store, while keeping things safe for consumers. The move comes after Apple introduced a new Gatekeeper feature in OS X 10.8 Mountain Lion, which only allows users to install apps from the Mac App Store in order to safeguard against malicious software.
This Gatekeeper feature, although well-meaning, obviously brought on criticism about Apple's direction, which seemed towards a completely closed desktop operating system. Hence, to ease concerns, Apple has introduced the Developer ID program that will certify apps so that consumers can have the confidence to download an app outside the Mac App Store.
In OS X Mountain Lion, the Gatekeeper option will be turned on by default, which will only allow apps to be downloaded from the Mac App Store or apps that have the Developer ID signature. User can still download unsigned apps if they wish, but they'll have to manually configure Mountain Lion to accept such apps.
[via Cult of Mac]