Apple and Google sued over 1998 speech patent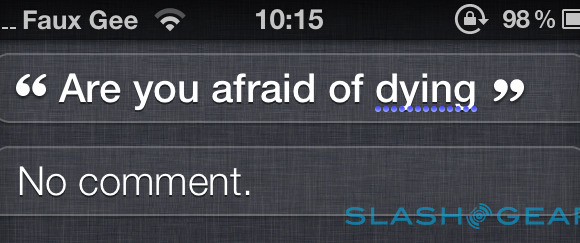 Apple, Google, and just about every OEM creating smartphones in the industry have been hit by a lawsuit which claims they infringe on a 1998 speech patent. A shell company based out of Colorado filed the suit, singling out Apple, the iPhone 4S, and Siri functionality, as well as Google Voice Actions, BlackBerry Voice Commands from RIM, and Microsoft's Speech Commands.
The patent describes how oral input can be used to control a computer using "[a]ssociative searching techniques of tabular data structures [which] are used in conjunction with rules and conventions derived from natural language to facilitate the use of oral input." Just about every smartphone manufacturer is being targeted by the lawsuit, including Apple, Google, Motorola, Samsung, HTC, Nokia, Sony, Sharp, ZTE, and LG.
Jerry Potter was issued the patent in 1998 back when patent standards weren't quite as tight as they are now. Potter then assigned the patent to a shell company based in Texas last year, who then transferred it to the Colorado shell company, Potter Voice LLC.
Whether anything will come of the suit remains to be seen, and the validity of the patent isn't clear either. There have been an increasing number of lawsuits in the tech industry lately, with companies suing each other over patent infringement, or patent trolls coming out of the woodwork.
[via paidContent]