Apple AirPrint Loses Shared Printer Support?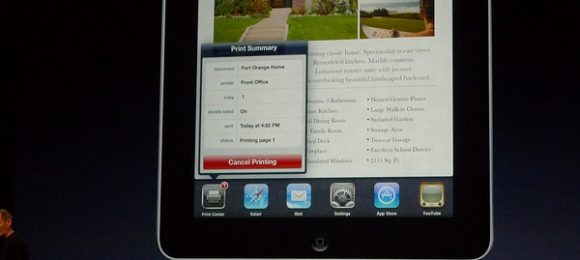 Apple has reportedly cancelled their AirPrint support for printers shared through PCs and Macs, with developers claiming that reference to the functionality has been removed from the support documentation, and at least one claiming to have been told by Apple Tech Supper that the feature has been dropped. If true, it will mean that AirPrint in iOS 4.2 – which allows devices like the iPad to print wirelessly – will only work with a small number of printers from HP at launch.
That list includes five models – the HP Photosmart C410, C310, B210 and C510, and the HP ENVY 100 D410 – though the expectation is that more printer manufacturers will jump on board as the system gains traction. Initially, however, AirPrint was said to also support printing to any brand of printer shared on a PC or Mac and accessible across the wireless network.
"Support for AirPrint on Windows and Mac has been cancelled. We will be in contact with you if another opportunity arises in the future" is what Apple Tech Support apparently told one developer, with others claiming that the feature was dropped due to "its instability and incompatibilities." No official word from Apple on the subject at present.