Apple 24-inch LED Cinema Display unboxing and hands-on review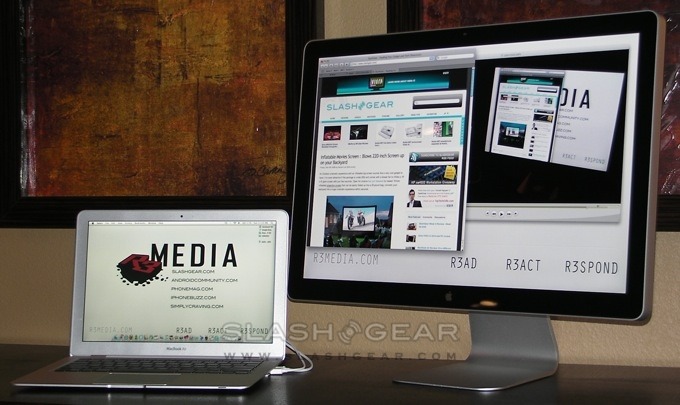 Of all the decisions Apple made with their most recent MacBook refresh, probably the most controversial has been its decision to use Mini DisplayPort as the sole video connector.  The 24-inch LED Cinema Display, then, has a doubly-tough challenge: not only does it have to follow the well-respected Cinema Displays of the past, it's also the only monitor that will work, without adapters, with the new unibody MacBooks. 
Up until October, the MacBook, MacBook Air and MacBook Pro all used DVI connections.  Apple changed that with the switch to Mini DisplayPort, based on VESA's full-sized DisplayPort technology, and has promised to fit the connector on every upcoming Mac.  The major benefit is in resolution: Mini DisplayPort supports external displays up to 2560 x 1600.
Apple are doing what they can to broaden Mini DisplayPort's appeal.  The company recently made the specification for the connector available, together with offering free licencing to those keen on making supporting hardware or cables.  Given the huge third-party accessory market that builds up around any Apple segment, it's unlikely to be long before we see the first wave of compatible devices.
Until then, though, only the three MacBook types sport it, and only the 24-inch LED Cinema Display is available to plug them into.  Given the exclusive nature of that relationship, it comes as no surprise that Apple have closely matched the design of the LED Cinema Display to the LED-backlit panels on the unibody MacBook and MacBook Pro.  Resembling an iMac, only thinner, with less of a chin-section and a more tapering profile, the monitor is constructed primarily of aluminium with an edge-to-edge glass panel up front.
As the name suggests, the latest Apple monitor relies on LEDs rather than CCFL backlighting.  That's not only healthier for the environment, being free of mercury and requiring less power, but they're estimated to last longer and they "warm up" faster.  Resolution is an HD-friendly 1920 x 1200, capable of displaying 16.7m colors with a 1,000:1 contrast ratio and 330 cd/m2 brightness.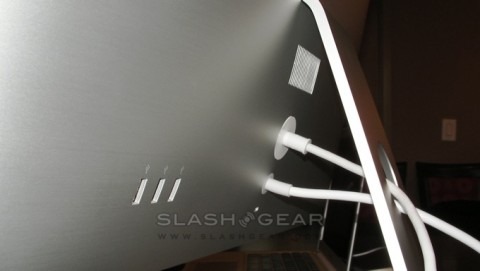 Controls on the panel are conspicuous only by their absence; there's not even a power switch.  What the LED Cinema Display lacks in buttons, however, it makes up for in cabling and ports: the most obvious, a fixed triple-headed cable, connects not only to your MacBook's Mini DisplayPort but offers AC via a MagSafe power plug and a USB 2.0 plug.  The latter enables the monitor's integrated three-port USB hub.  In the bezel there's an iSight camera, together with a microphone, and a 2.1 speaker system lurks inside too. 
Setup is straightforward, with only the AC power cable to plug in.  All of the monitor's settings are tweaked via the MacBook itself, rather than through its own menus.  Brightness can be changed via the function controls on the keyboard, but everything else requires a trip into the OS X System Preferences. 
As with the iMac, when it comes to positioning it's pretty much Apple's way or the highway.  The LED Cinema Display can be tilted, but there's no facility to swivel or rotate without physically moving the whole screen.  Thankfully there's a VESA mount on the back, should you want to use a third-party monitor arm.  Given the high-gloss glass panel – the effect of which you can see in our second video below – we'd prefer to be able to nudge the display around to avoid glare.
Since you may be moving your head rather than your display, then, it's a good job that the LED Cinema Display has excellent viewing angles.  Apple quotes 178-degrees both horizontal and vertical, and if you enjoy watching your monitor from almost sat alongside it, you'll be pleased to hear there's very little color shift.  We came across no stuck or dead pixels, and the high-resolution means edges are very smooth and text, even at tiny font sizes, still legible.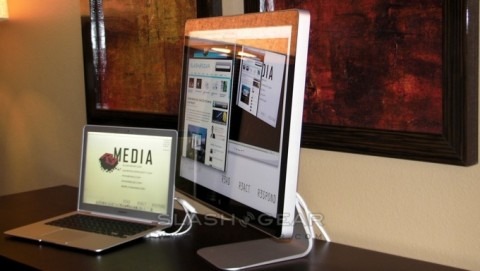 The natural settings leave the Cinema Display on the cool side, with brightness perhaps a little too high, but these were easy aspects to tweak and we had no complaints with the popping colors and excellent clarity.  Apple quote a 14ms response time, which is longer than many monitors available but, in practice, proved to be no drawback.  High-definition video showed no smearing or jerkiness.
While it's called a 2.1 system, the display's integrated speakers don't seem to follow the usual "stereo pair plus subwoofer" pattern.  Instead there are three separate cones, with the third firing back and bouncing the sound off of the Cinema Display's stand.  Clever though that may be, it doesn't add up to superlative audio quality; we far preferred the iMac's integrated speakers, finding the Cinema Display's to be weak and bass-anaemic.  iSight and the integrated microphone work just as the MacBook's own versions do, with video conferencing apps now having a choice of inputs.
There's no denying that the 24-inch LED Cinema Display is an attractive, capable piece of technology.  The new panel is simply beautiful, capable of high-quality images and almost mesmerizing color.  True, the speakers lack finesse, but that's no surprise for a monitor; they're at least an improvement on those in the MacBook.  The design is yet another prompt to make you wonder how Apple can consistently get it so right, and why other firms continue to get it wrong.
Of course, part of the reason is that Apple can afford all that polish, given the 24-inch LED Cinema Display's premium price.  At $899, that's significantly higher than you can find a 24-inch display for elsewhere, even if you discount the entry-level models that can't compete with the Apple's premium picture quality.  The integrated MagSafe adapter could be viewed as a bonus worth $79, saving those who'd normally buy a second for their home or office, and the USB hub is an extra scrap of functionality.  Don't underestimate, too, the convenience of leaving printer, scanner and external hard-drive plugged into the display, and hooking them all up with a single USB cable once you're at your desk.
Nonetheless, $899 is a big price, and one many will balk at.  The cynic will say that Apple is cashing in on Mini DisplayPort's exclusivity; the miser will point to comparable, cheaper monitors elsewhere.  Those who have already succumbed to a new MacBook, MacBook Air or MacBook Pro, however, and who can scrape together the cash for the 24-inch LED Cinema Display, can get on enjoying one of the best performing monitors we've tested.
Unboxing Apple 24-inch LED Cinema Display
Apple 24-inch LED Cinema Display Glossy / Glare test