Apple 2011 Black Friday ads surface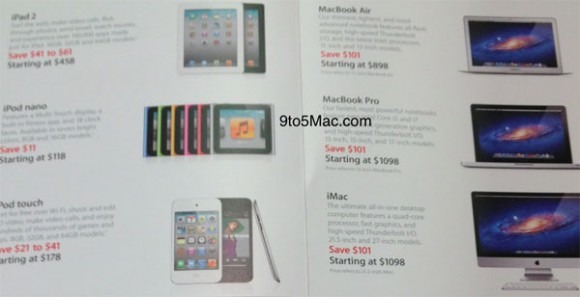 It seems that all the big tech firms are getting into the Black Friday spirit this year. Apple's ads for Black Friday have surfaced showing discounts on just about everything the company has in its stores. There are discounts on the iPad, iPods, iMac, MacBook Air and Pro as well as discounts on accessories. The sale will kick of this Friday.
The iPods on discount are the iPod nano and touch with $11 off and the iPod touch will get discounts of $21 to $41. The iPad is being discounted based on the storage capacity with $41 to $61 off. Accessories for the iPad like the smart cover are on sale too with $11 off the plastic or leather options.
The sale will also see discounts on some third party items that are sold in the stores as well. The Mac computers are getting nice discounts of $101 off for each of the models. These are certainly not huge discounts, but it's nice to see a discount at all on popular gear.
[via 9to5Mac]