Apollo Edition Ford Mustang to be auctioned by Experimental Aircraft Association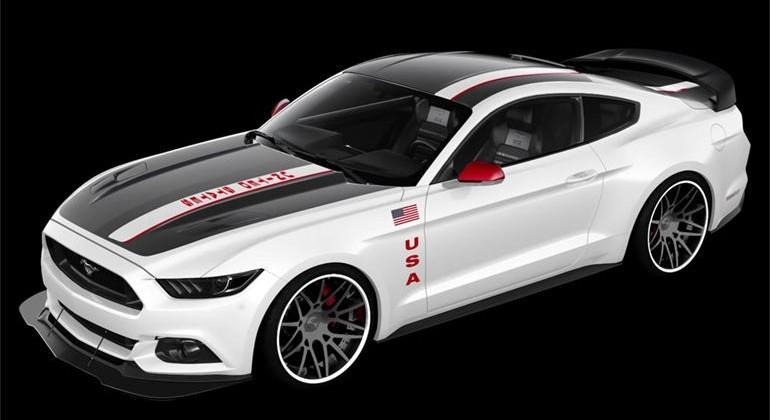 What you're seeing here is a very limited edition 2015 Ford Mustang designed after NASA's Apollo spacecraft program — one-of-a-kind limited, to be specific. Ford built and donated the special edition Pony car to the Experimental Aircraft Association (EAA), who will be auctioning it off later this month. The Mustang specifically takes its look from the Saturn V rocket that flew to the moon and space between 1967 and 1973.
Painted in black and white with red detailing, the Apollo Mustang features the US flag, "USA," and "United States" in the same style as NASA's rocket. Ford says its design manager Melvin Betancourt led its creation, and Edsel B. Ford II, a member of the car company's board of directors, commented that the vehicle "salutes man's greatest technological achievement, with the ingenuity, precision, and power that defined the spirit of American innovation."
Each year the EAA holds an AirVenture aviation convention, which includes a Gathering of Eagles event that raises funds for youth aviation programs. Ford serves as a sponsor for the convention, and their Apollo Edition Mustang will be sold at a live auction on July 23rd, in Oshkosh, Wisconsin.
Ford has actually designed and donated a number of special edition Mustangs to the EAA, each modeled after different flagship aviation programs. Quick glimpses of the models can be seen in the video above, framed in circles surrounding the new Apollo version. They include the US Air Force Thunderbirds, the Tuskegee Airmen Red Tails fighter jets, the US Navy's Blue Angels, and the F-35 Lightning II fighter jet version, which was sold for $200,000 at last year's auction.
SOURCE: EAA