Apex Legends Twitch Prime loot available now: Here's how to get it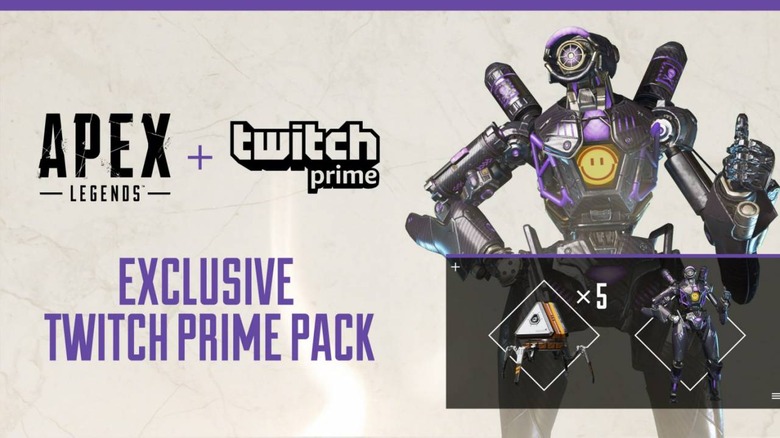 Well that didn't take long at all: hot on the heels of Apex Legends' successful launch, Electronic Arts and Amazon have teamed up to offer some free loot for the game through Twitch Prime. Popular games – especially battle royale titles – are often at the center of these Twitch Prime giveaways, which typically hand out cosmetics or loot boxes to subscribers. For Apex Legends, that's no different, as you'll get one skin and a handful of loot boxes when you redeem the offer.
Specifically, you're getting the Omega Point Pathfinder skin – which is billed as one of the game's legendary skins – and five Apex Packs, the game's brand of loot boxes. That isn't too bad, especially since existing Amazon Prime members don't need to pay anything for them.
Redeeming these rewards is a pretty straightforward process, though there are a few steps involved. You'll need to head over to the Apex Legends
and sign in with your Twitch account. Then, click the "claim now" button to link your EA account with your Twitch Prime account.
After you've linked both accounts, you're all done, and your in-game goodies will be available the next time you play. The FAQ on that Twitch Prime page notes that this content will only be available on the first platform you log into with your EA account, so if you play Apex Legends on multiple platforms, be sure to pick the one you use most the next time you boot up the game.
Twitch Prime is offered for free to all Amazon Prime subscribers. On top of monthly promotions like this one, Twitch Prime also lets users subscribe to one channel for free each month. Prime promotions like this certainly helped Fortnite grow into the Twitch juggernaut that it is today, so now we'll see if the same thing happens with Apex Legends. Stay tuned, because this is just the first of what will likely be many Twitch Prime deals for Apex Legends.