AOpen XC Mini GP7A-HD nettop eschews Atom for Core 2 Duo & NVIDIA Ion

AOpen have outed their latest nettop, but whereas we're used to apologetic Atom processors holding us back, the AOpen XC Mini GP7A-HD takes regular Core 2 Duo CPUs instead.  The barebones kit also packs NVIDIA's Ion graphics chipset, which adds up to Full HD performance and a machine that could actually do a little gaming on your big-screen TV.
Otherwise there's a DVD burner, two DDR3 memory slots (4GB max, though it's unclear if that's per-slot or overall) and a 2.5-inch HDD bay.  Connectivity includes HDMI and VGA outputs (which will work simultaneously), together with gigabit ethernet, six USB 2.0 ports, eSATA, audio in/out and a 6-in-1 memory card reader.  There's no standard wireless connection, but two empty PCI Express Mini Card slots inside are enough for both a WiFi b/g/n card and a TV tuner if you should so wish.
Since a regular CPU and NVIDIA Ion could lead to things getting pretty toasty inside, AOpen have produced a custom cooling system with a copper processor heat-sink and integrated fan.  That's enough, they say, for just 26dB of noise from the nettop; plus there are silent and HD playback modes which can throttle things back so that fan noise isn't an interruption during basic video playback.
What we don't yet know is pricing, which should be announced closer to the system's release in mid-December.  We're hoping for a reasonably affordable setup, since this is actually one of the more appealing desktops (and potential HTPCs) that we've seen in recent months.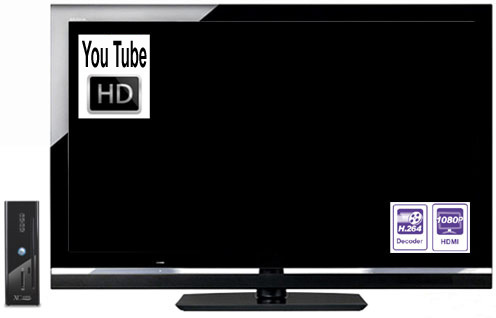 [via Netbooked]