AOC 2230Fh 22-inch LCD Display Review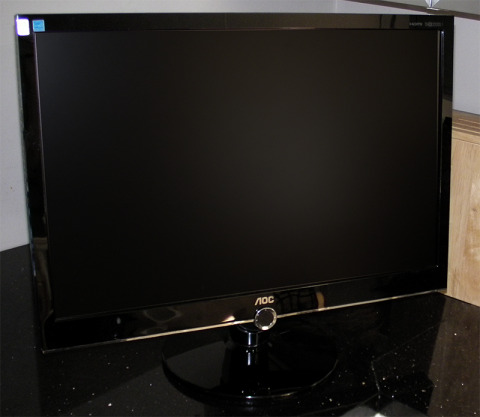 AOC are well known for their reasonably priced monitors, and with the 2230Fh they threw eye-catching design into the ring too.  A 22-inch widescreen LCD display, running at 1680 x 1050, the 2230Fh pairs a low $299 MRSP with a surprising array of connectivity.  Is it a true bargain though, or just a load of marketing boasts?  Read on for the full SlashGear review.
In terms of appearance, while this may be billed as a budget LCD display it doesn't necessarily look that way.  The piano black front bezel and decorative rear and side effect are much more attractive than your typical low-end monitor, and though the stand isn't height-adjustable it does at least have a relatively small footprint.  There's also a standard VESA mount on the back, meaning hanging the 2230Fh on a wall or off a riser arm shouldn't be too much struggle.
Setting up the 2230Fh is a straightforward matter too, involving choosing between its single HDMI, DVI or VGA D-Sub inputs.  There's also a stereo audio-in port, taking a standard 3.5mm jack, for using the 2230Fh's discretely integrated speakers.  AOC use a simple OSD with easy access to the main settings, though we imagine most people will use it as it comes out of the box.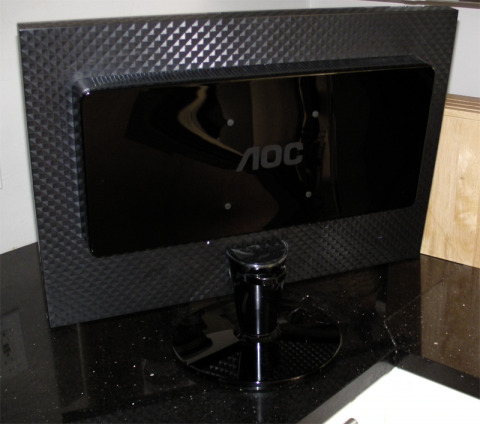 That's a shame, because the default settings seem to prioritize eye-catching brightness rather than usability.  The dynamic contrast is aggressive and hard on the eyes, especially when the 2230Fh is stood next to a properly calibrated display, and the standard contrast setting proved beyond the comfort zone for web surfing and reading.  Admittedly, with its 2ms response time and 20,000:1 dynamic contrast ratio, AOC are targeting the 2230Fh more at gamers and movie-addicts than regular desk users.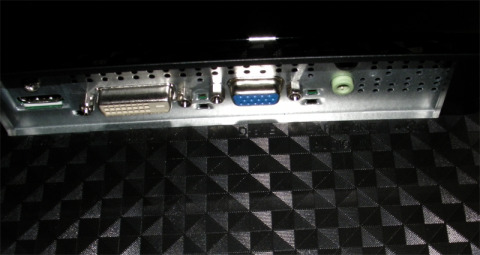 Step through the preset modes, however, and there are a number of toned-down settings far more suitable for everyday use.  Each preset can be tweaked, too, meaning even without a proper calibration tool you're likely to find a reasonable setup.  Slightly disappointingly – but unsurprising given our experience with TN panels – even with a calibration tool we were unable to get accurate colors across the panel.  Color-shift particularly is noticeable from edge to edge.
Unlike some manufacturers who have stuck with TN panels, AOC have not given the 2230Fh a better glass panel to improve on color shift and increase color gamut.  That's likely a cost-saving measure, but it does make the display more aesthetically appealing at least.  Sound quality is surprisingly good for integrated speakers, though anybody coming from a 2.1 setup with a standalone subwoofer will notice the lack of bass.
Still, with minimal ghosting and a decent breadth of connectivity thanks to that HDCP-compliant HDMI port, the 2230Fh proves itself a flexible and pleasing option for the budget buyer.  Given the limits of its TN panel, we'd shy away from recommending it to graphics professionals or anybody doing video editing, but gamers will find plenty here to appeal. 
At its MRSP of $299.99 it's a reasonable choice; when you factor in online prices of around two-thirds of that, complete with a three-year manufacturers warranty, the AOC 2230Fh presents a very tempting offer indeed.