AnTuTu Top 10 phone CPUs put Snapdragon 820 above Apple A9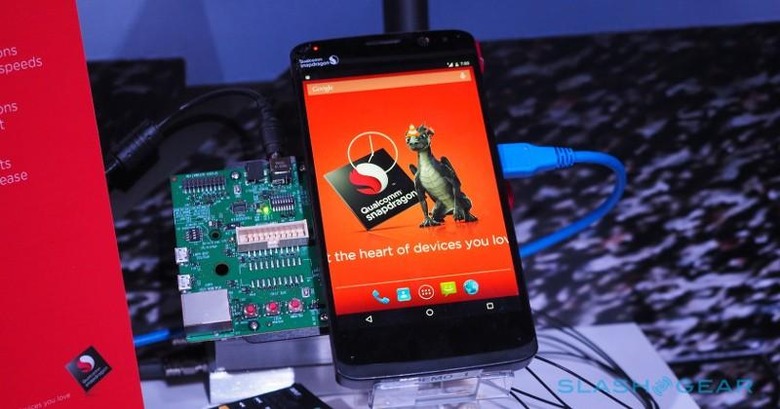 Some manufacturers, like Apple and, recently, Samsung, try to steer attention away from the hard, cold, and impersonal numbers of specs and stats, focusing instead on relative performance and concrete applications. However, there will always be interest in those numbers, particularly CPU and GPU benchmarks. AnTuTu is one of the more popular providers of such numbers and, just after the launch of new devices, it has released what its tests have revealed to be the top 10 mobile CPUs in the market. Interestingly, the #1 spot is occupied by Qualcomm's Snapdragon 820.
AnTuTu gives a preamble that the numbers it quotes are actually average scores of the processors, not their highest marks. Since those scores usually fluctuate, it is a bit more reliable to just find their average instead of relying on a single actual result.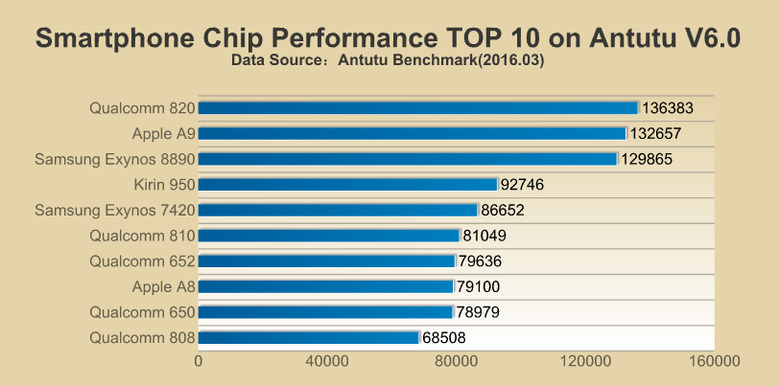 If AnTuTu is to be believed, Qualcomm may have finally gotten its groove back. After a disastrous 2015 because of the Snapdragon 810, fans will be pleased to see the Snapdragon 820 putting Qualcomm back at the top. Of course, this is raw performance metrics. While the Snapdragon 810 might have been actually powerful, its real-world performance and overall reception was marred by poor thermal management. The Snapdragon 820 powers, among other, variants of the Samsung Galaxy S7, the LG G5, the Sony Xperia X Performance, the Vivo Xplay5S, and the Xiaomi Mi 5.
The Apple A9 on the iPhone 6s and iPhone 6s Plus has been pushed down to second place after enjoying a year in first. The more powerful Apple A9X is, of course, absent since it is only found in the iPad Pro tablet. Curiously, the Samsung Exynos 8890, which is Samsung 14 nm FinFET hero, ranks just a little below the Apple A9. That Exynos powers the other variants o the Galaxy S7 and Galaxy S7 edge.
The numbers take a rather sharp dive after the top 3 CPUs, with Kirin 950 leading the pack. While the rest of the CPU models there are expected, the Snapdragon 652 and 650's presence are worth noting. These are higher mid-range processors that a few "semi" flagship smartphones are starting to carry. It is, perhaps, encouraging to see the two perform just as well as the Snapdragon 810, Apple A8, and Snapdragon 808. The Qualcomm Snapdragon 652 will be found in the likes of the Vivo Xplay5 whle the Snapdragon 650 will power the Sony Xperia X.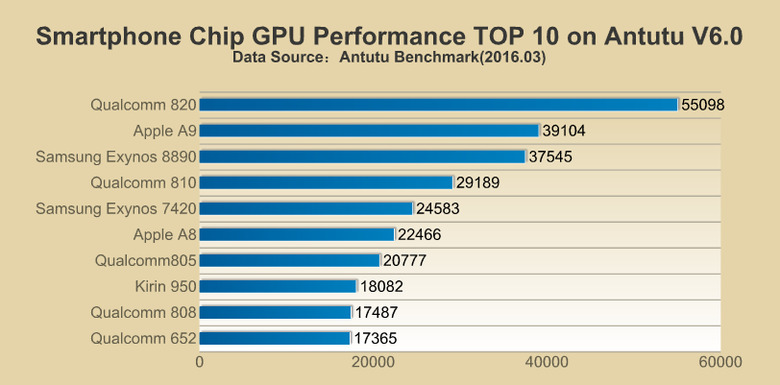 In terms of graphics performance, the top three are exactly the same and in exactly the same order, with the Snapdragon 820 (Adreno 530 GPU) at the top and the Apple A9 (PowerVR GT7600) and Exynos 8890 (Mali-T880 MP12) following a bit far behind. The Kirin 950 (Mali-T880 MP4) surprisingly drops to 8th place.
SOURCE: AnTuTu