AnTuTu 2014 charts: Xiaomi tops, Samsung dominates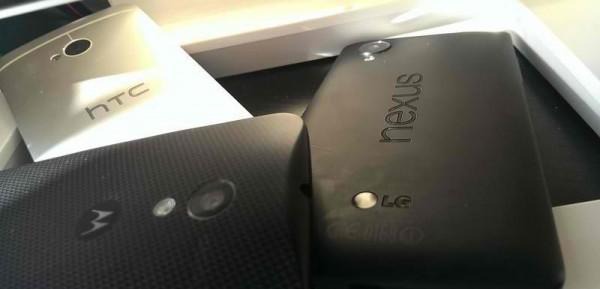 With January almost halfway through, AnTuTu is releasing some interesting numbers for 2014. Although it isn't surprising to see Samsung's smartphones take up four slots in 2014's top 10, despite slumps in profits and sales, the charts do have a few unexpected revelations. While we have indeed seen the rise of Chinese manufacturers in the global smarpthone market, the inclusion of rather small players like OnePlus into the top 10 most popular smartphones is quite unexpected and perhaps hints at the changing tastes of consumers.
There is no doubt that buyers still attach a great deal of importance to brands, as any Apple or Samsung flagship would attest to, but many are getting wiser and are learning to see past brands and look at hardware, features, and, most importantly, bang for the buck. The OnePlus One, despite its very limited availability through an invite-only system, was able to penetrate the top 10 most popular smartphones of 2014, even if only at 8.42 percent. It fares even better in the US, going up to third place with 11.57 percent, butting heads with Samsung's top phones.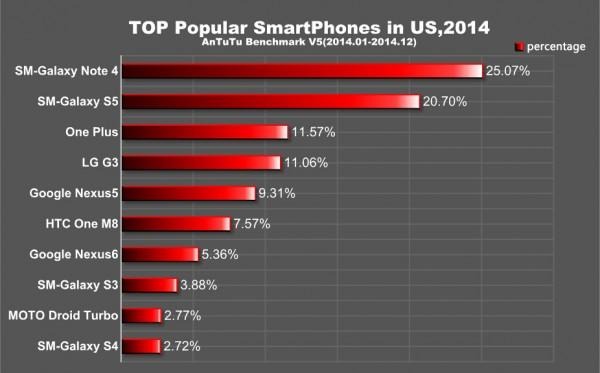 Of course, Chinese manufacturer Xiaomi tops the charts by sheer numbers. The Mi 4, though only half a year old by the end of 2014, ranked as the number one smartphone. It's other devices, like the Mi 3 and the Redmi Note, follow closely behind, especially in Chinese markets. with the introduction of the rather high-end Mi Note and Mi Note Pro, these numbers might get boosted even more this year.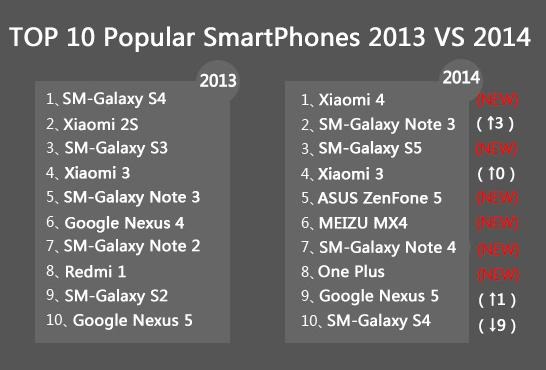 While Samsung isn't at the top, it takes up a good portion of the pie, with four slots dedicated solely to the Korean manufacturer while the remaining 6 slots are divided among 5 companies, including OnePlus. Though more than a year old, it is surprising to see the Galaxy Note 3 outranks all others at number 2, even surpassing the Galaxy S5 at number 3. But even with just a few months in the market, the Galaxy Note 4 actually still made it to the top 10. In the US, the numbers are a bit different, with the Galaxy Note 4 at the very top followed by the Galaxy S5. The LG G3, on the other, isn't far behind at fourth.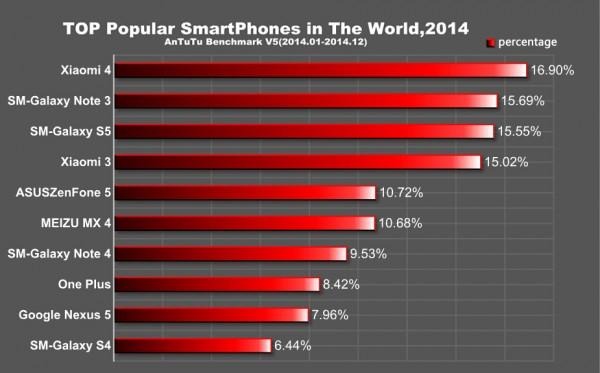 Impressive as these numbers may be, do take them with a grain of salt. These figures are gathered from AnTuTu's apps, which, of course, may not be representative of an even wider market. Considering the benchmarking suite's Chinese origins, the numbers might also be skewed a bit when it comes to China, but they still do present some useful insight into consumer preferences and smartphone market performance.
SOURCE: AnTuTu