Anti Gravity Globe - Looks and Acts Just Like the Real Thing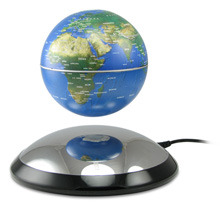 I'm sure if every classroom had one of these, Geography would be a more popular subject. I know it grabbed my attention just from the picture. It uses strategically placed magnets and sensors to create its hover effect. That means it not only has geographical properties but scientific ones as well.
The Anti-Gravity globe is available for just $80. With a price and educational value like that it's sure to be a hit with everyone, whether in the classroom or the home.
Anti-Gravity Floating Globe [via Coolest-Gadgets]