Antec Soundscience Virtual 3D Speakers Coming This Fall for $250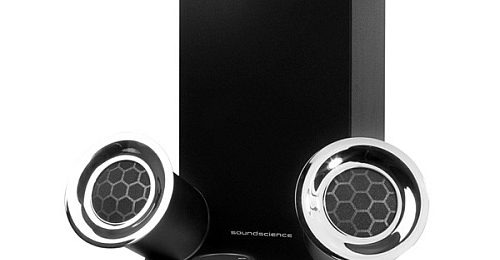 If your living room is usually being used to watch movies or play video games, then you know that having the best sound is critical to a fully enjoyable experience. There are plenty of options out there for speakers, especially if money is no worry and you have a system that can handle 5.1 or 7.1-channel experiences. But what if you just want a simulated 3D experience? An experience that doesn't come with a huge price tag? Then you'll have to wait just a little bit longer to get your hands on Antec's Soundscience speakers.
Shown off over there in Europe today, at this year's IFA show, this new speaker is of the 2.1-channel system variety. Antec says that, despite the limited channels, that the Soundscience speaker will deliver realistic 3D sounds, so you shouldn't have to worry too much. The Soundscience features anodized aluminum satellite speakers, which can accept digital or analog input. And, if you want to use 3D only depending on what type of media your watching, there's an external toggle that will let you choose between 2D and Antec's very own 3D sound.
While Antec is confident that the speaker will be set to launch this year, they couldn't give a precise date. They do say that it will be out some time this Fall. But the best part comes in the fact that it won't cost an arm-and-a-leg to get your hands on the Soundscience. Only $250, and you can have all the simulated 3D sound you need.
[via Electronista]