Another Rugged Handheld PC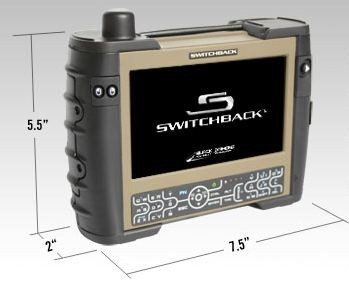 You know I love the rugged go-anywhere computers.  Even though I'm rarely more than six foot away from a well-paved surface, and harbour a deep phobia of greenery, the idea of a laptop (preferably a Tablet PC) which I could drop on my foot and sustain only broken toes rather than the far more serious hard-drive failure makes me tingle in my private areas.  Black Diamond are certainly hitting all the right spots with their SwitchBack Mobile PC – yes, it might not be a powerhouse, but its magnesium housing, rubber isolators and shock-mounted electronics mean that it either meets or exceeds the military specs for shock, vibration, humidity and extremes of temperature.
A 1.0GHz Celeron M doesn't sound too bad, and 1GB of 400MHz DDR RAM is actually quite impressive considering the paltry amount most rugged handhelds seem to make do with.  Hard drive options up to 60GB – removable, at that – aren't pathetic either.  There's a full bevy of wireless options too; Bluetooth 2.0, WiFi b/g and GPS, together with a swappable module system on the rear of the device which can be used to add biometric scanners, RFID/barcode/mag-stripe readers, custom I/O devices or even additional processors, hard-drives or batteries.  The 5.6-inch outside-viewable touchscreen and button-rich thumb-board make control simple.
Dual-boot or simultaneous multi-OS operation are possible, with data easily exchanged between, say, WinXP and WinCE.  Initially available running XP, further OS options such as Linux will be available for download in the second quarter of 2007, as well as upgrades for dual processor and simultaneous task operation.
SwitchBack [via Geekzone]