Another NVIDIA GTX 480 Quad SLI Test Surfaces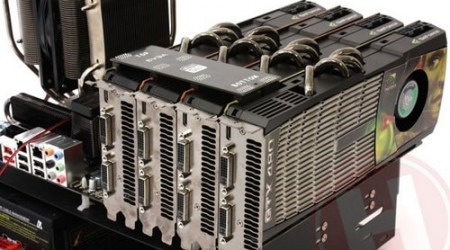 I have been a PC gamer for a long time and when NVIDIA first rolled out its SLI technology, I was pumped to see the benefits that you got in video games using multiple cards. Over the years, NVIDIA has improved the tech and you can use up to four of some of the companies cards in SLI today.
A while back we saw a test of quad SLI with the GTX 480 video cards and today another such test has surfaced. This time the test was conducted at Hardware.info and I want four GTX 480's so bad I can taste it.
I am sure with summer rolling around four of these beasts in an office during the Texas summer would not be a happy thing. The rig with four of the video cards inside posted a 3DMark Vantage score of 24673 with Extreme mode running and the machine turned in a score on Far Cry 2 of 169.8 fps at impressive settings.