Anker PowerHouse 400Wh portable generator can charge via solar power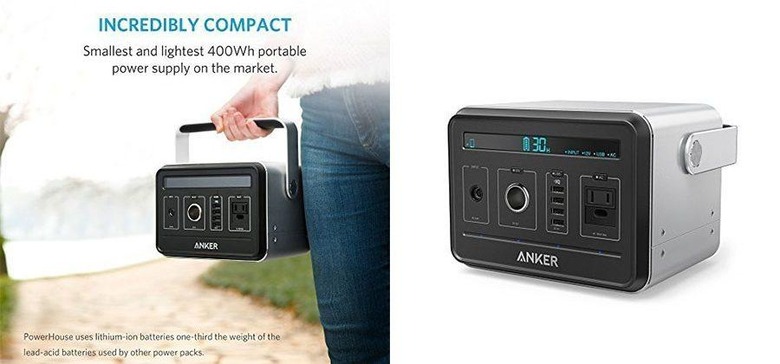 We may receive a commission on purchases made from links.
A new version of the Anker PowerHouse compact generator has hit Amazon and can be purchased now. The device has 400Wh of power inside that is stored in lithium ion batteries. The device has an integrated DC/AC power inverter and 12V car AC and USB outputs for charging gadgets. The internal batteries can be charged via an AC outlet or via solar panels when camping or when AC power is unavailable.
The device is designed to be used for camping or as emergency backup power. The design of the portable generator is smaller thanks to the use of lithium-ion batteries rather than lead-acid batteries like some similar portable power devices use.
A Battery Management System is integrated that controls voltage, temperature, and advanced safety operations to prevent any shorts or other issues. The package includes the portable power supply, a 10-foot AC adapter, 2-foot microUSB charge cable, and 18-month warranty. The device measures 7.9-inches x 6.5-inches x 5.7-inches and weighs 9.3 pounds.
The portable power device has enough juice inside to recharge a laptop 15 times, an iPhone 40 times, run a mini-fridge for over seven hours, or run a 15V light for over 100 hours. The new version of the PowerHouse will begin shipping May 22 and buyers can save $100 if they use code ANKPower at checkout. Sadly, the device isn't offered on Amazon Prime, but shipping is free. Purchases are shipped and sold via AnkerDirect when made on Amazon. This is a similar setup to the GoalZero solar charging systems we have talked about in the past.
SOURCE: Amazon