Angry Birds Star Wars arrives on Facebook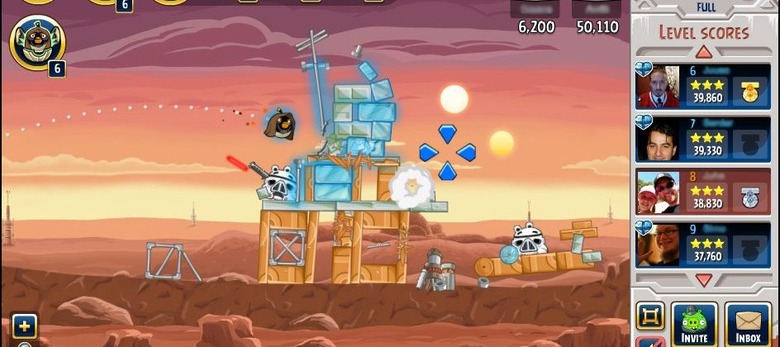 If you can't get enough Angry Birds Star Wars action on your phone or tablet, then you'll be pleased to know that it landed on Facebook today. Now you can play through Rovio's take on the Star Wars universe with your Facebook profile, letting everyone know about it in the process. You're getting mostly the same game as you are on mobile devices with this release, but there are a few key differences Angry Birds die-hards might like to know about.
For instance, since this is on Facebook, you'll be able to compare your scores to those of your friends, determining once and for all who is the best at knocking down shoddily-made structures put together by those evil-yet-adorable pigs. It doesn't all have to be about competition however, as players can send in-game gifts to friends who are playing Angry Birds Star Wars as well. Rovio will be giving Facebook players five new levels each and every week, which should do a lot to keep people playing.
Not enough new stuff for you? No problem, because there will also be weekly tournaments you and your friends can participate in for the chance to win in-game goodies. Add to all of that three new power ups and one new ability, and those playing on Facebook have a quite a few extras to look forward to.
Of course, it also helps that Angry Birds Star Wars is perhaps the best Angry Birds release yet, which is saying quite a lot considering how addictive past installments have been. Facebook players are told that more bonuses are coming down the road, so it looks like Rovio has some future goodies in store. We'll have to wait and see what those are, but for now, we're sure that fans will be happy enough with the knowledge that Angry Birds Star Wars is now available on Facebook.