Less than a couple days after Rovio teased a new update for Angry Birds Star Wars, the company has released the Escape from Hoth update, which adds 20 new levels to the game, as well as new types of enemies. Plus, there's new bonus levels that introduce more boss fights. It's a free update, so if you already have the game, it's certainly worth checking out.
Most notably in this update is the infamous asteroid field that was featured in the movie, where the gang had to navigate their way through the whole mess. In the game, you make your way through the asteroid field while trying to take down the enemies as well, which now include the "mynock pigs," which are essentially pigs with bat wings that can float in mid-air instead of simply sitting atop rocks and other surfaces.
The video doesn't show us a lot of the new update, so if you really want to find out what you'll be getting yourself into, we suggest firing up the game and checking out the new levels. However, we ended up checking it out for ourselves and we have to see we really like what we see. The mynock pigs are especially cute, and navigating the asteroid field is definitely a new experience that we find both challenging and exciting.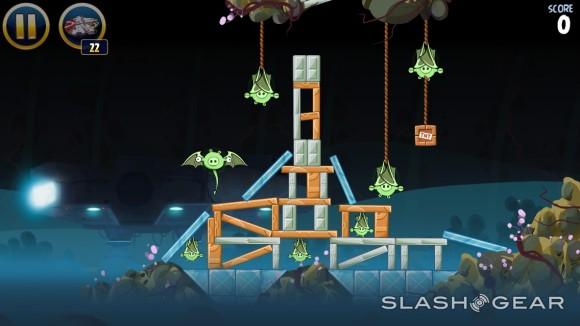 The update is available for iOS and Android versions as we speak, and it should be hitting Windows Phone and BlackBerry here shortly. The update will also be available for the Kindle Fire version, as well as on OS X and Windows. The game is free on Android devices, while it costs $0.99 on iOS, and $4.99 on the desktop.