Angry Birds Space real world interactive installation hits Kennedy Space Center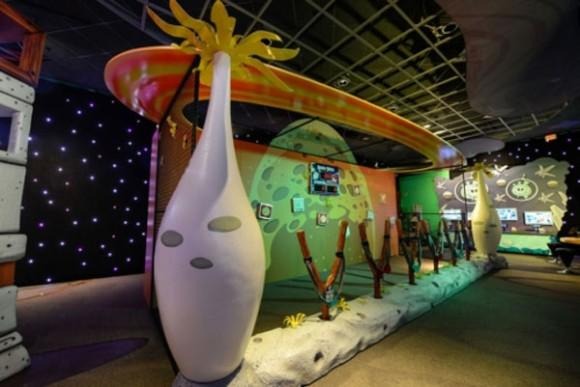 The Kennedy Space Center in the heart of the United States space program for decades. Kennedy Space Center is located in Florida and the location has been the starting point for numerous NASA missions past and present, there is also a very large Kennedy Space Center Visitor Complex as well. That visitor complex is designed to educate children and adults on space and has numerous interesting activities that are available.
The visitor complex has announced that it has a new installation for visitors to enjoy based on the incredibly popular video game Angry Birds Space. The installation opened recently and is designed for people of all ages to enjoy. The exhibit spans 4485 ft.² and is called the Angry Birds Space Encounter.
The installation is in regular visitor complex and visiting the installation is included in the price of a regular admission. There are six interactive stations designed to engage players in new activities with some of their favorite characters from the games. Visitors will be able to create their own Angry Bird in red, green, blue, or purple and choose from different body styles and accessories. Once the creation is complete, visitors can print the creation out to keep.
One of the coolest parts of the attraction is the Eggsteroid Slingshot. This attraction allow the guests to use a real slingshot in an attempt to hit King Pig and Corporal Pig. The exhibit also offers tile puzzles to solve and something called the Danger Zone. The Danger Zone is a mirrored labyrinth challenge for visitors search for hidden Angry Birds and discover other surprises. Other features of the exhibit include the Red Planet Laser Challenge for players explore the surface of Mars and avoid laser beams at the same time. The exhibit also has an actual game zone where players can play the real game against other people.
[via Kennedy Space Center]