Angry Birds sequel Bad Piggies brings wave of video clues [UPDATE: Gameplay!]

The folks at Rovio have been hard at work on a sequel for the mega-popular Angry Birds franchise, here turning the whole world upside-down with Bad Piggies. This sequel to the Angry Birds original will have the mechanics of the game changed just a bit, with the Pigs being the center of attention instead of the Birds whom, up until now, where the ones you were tossing at the enemies – those being the Pigs. Here Rovio is letting details loose in bits in pieces in videos and comics to tease you 'til the final release.
The first set of clues you're going to want to take a look at is here in a series of videos. What this playlist will show you is a set of science-related sequences that may very well lead up to the pigs bringing on their own inventions for the final game. What we're seeing here is building – lots of building – and fire – lots of fire. Could the Piggies be racing soon?
They note that "gasoline should never be brought indoors", this letting us know that there's almost certainly going to be some explosions happening here in the next chapter. There's a woodsman cutting down a tree, several airplanes taking off, and a bunch of balloons being left to fly straight upward. There's a video showing the bottom of a shopping cart, and great amounts of creation.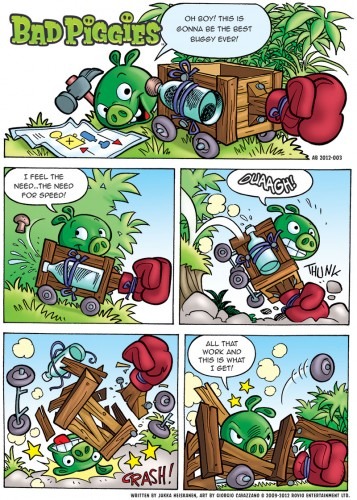 There are also a couple of comics up made by a couple of talented artists (the massively talented duo of writer Jukka Heiskanem and illustrator Giorgio Cavazzano) who are showing off quite clearly what at least one part of the game will be about. The first of two comics has a young Pig creating a cart that quickly smashes into the ground. The second has a more seasoned Piggie helping the smaller Pig with a new cart, this time working with dynamite jets and an umbrella up top to keep him afloat.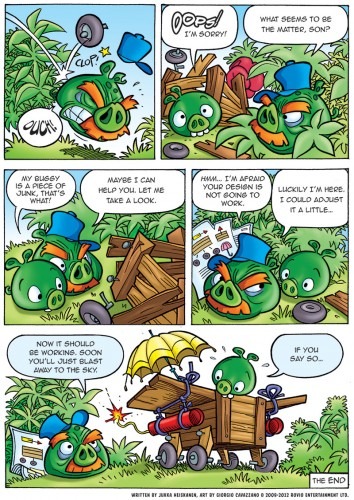 The key here is the phrase "I'm afraid your design is not going to work." This leads us to believe that this game will be all about building, physics, and crashing – or flying, by the looks of it. Stay tuned as Bad Piggies gets its first big release on the 27th of September – coming up quick!

UPDATE: Right on time – or right after time, rather, Rovio and Yahoo have teamed up to release this "exclusive" video showing off some in-game action. Check the Pig building superstars go at it very much how it appeared they would!
[via Rovio]