Angry Birds remote control helicopter hates pigs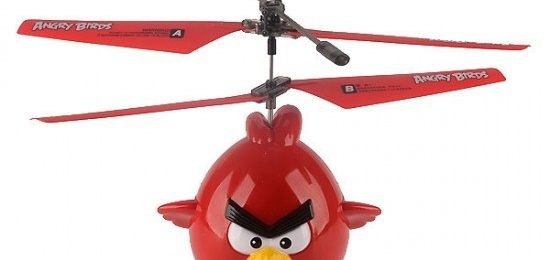 This may be the coolest little remote control helicopter I've ever seen. It has dual counter rotating rotor blades of top and a red unibrowed Angry Bird instead of a helicopter body. The helicopter is designed for indoor and outdoor play and promises to be easy to control and survive the inevitable crashes that come with this sort of toy.
The body the helicopters made from impact resistant plastic and the toy is for kids eight and up. I have several traditional helicopters of this sort around the house and they are generally easy to fly for adults and kids. The helicopter measures 20 x 20 x 12.5 cm and can be controlled in left or right directions and up and down.
The remote control has a range of 10 to 15 m and up to three these of the helicopters can be flown at the same time thanks to a three channel selector on the remote. The controller uses six AA batteries and the helicopter has an integrated rechargeable battery. The battery needs 40 min to charge fully and allows for flight time of 8 to 10 min. The helicopter sells for $49.95.