Android Wear update hitting the LG G Watch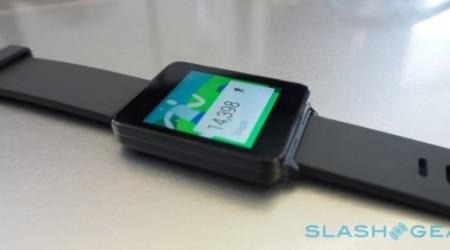 If you're wearing an LG G Watch, you might want to check for an update. A firmware update is currently rolling out for the watch, bringing it to Android Wear 4.4W2. This new firmware for Android Wear brings in offline music support, as well as some GPS functionality. Those are two features Android Wear users have been waiting for for quite some time, and the G Watch — also technically the first Android Wear watch — is the first to get them.
The updates look great on paper, but they're also curiously useless if you'd like your watch to act as a standalone device. Though you have the ability to play music offline, you can't actually load music onto your G Watch. It seems as though the offline playback has to do with something coming that the G Watch just can't do.
That dovetails with the discovery of a Bluetooth pairing menu now showing up on the G Watch. From there, you can pair with Bluetooth enabled devices like speakers. Handy, but not for offline playback — and probably not something you'd want to do without that feature.
As for GPS, the G Watch just plain doesn't have that hardware. The incoming Sony Smartwatch 3 does, so the GPS functionality might be intended more for future products than existing hardware.
GPS is a no-go, and offline music support is still clouded. It's not clear exactly what Google meant with this update, as they've yet to announce it officially, but the offline music might just be a forward-thinking update, as GPS seems to be.
The ability to add a Bluetooth headset is neat, though, and should you be able to load a playlist for a jog with upcoming hardware, this might finally be useful.
Just not for the G Watch.
Via: Android Police