Android Verifier Pocket Spectrum Plus Bluetooth printer and credit card scanner debuts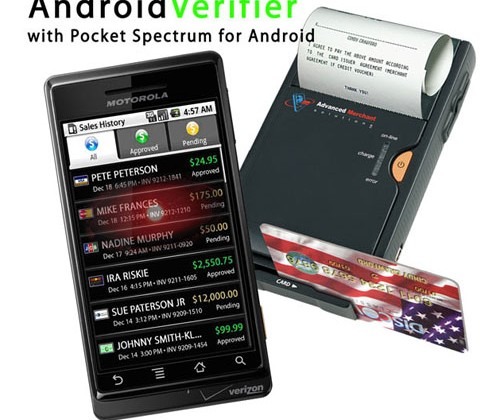 It seems like we are always seeing new credit card scanning systems for the iPhone launch, like the VeriFone system back in February. We don't see too many credit card scanning and processing systems for other smart devices though.
Android users now have a new option for scanning credit cards on the go and giving customers receipts from Merchant Anywhere called the pocket Verifier Professional with Pocket Spectrum Plus. The Pocket Verifier Professional system is the software option of the systems that runs on Android devices.
The Pocket Spectrum Plus is the hardware portion that connects to the device via Bluetooth. The device is a combination printer and magnetic credit card scanner. The printer prints the receipts using thermal printing technology needing no inks. The card reader is a 2-track reader and the entire device is rugged and powered by interchangeable lithium-ion batteries.