Android TV gets 'live' TV app, but no content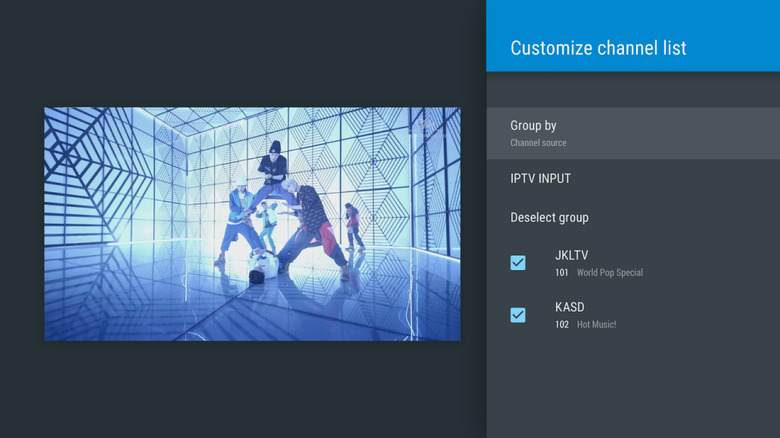 Streaming video is a proven winner, and just about everyone is getting in on the cable-cutting. Roku, Amazon Fire TV and Fire Stick, Apple TV, Chromecast, and Android TV all vie for a place behind or next to your TV. All do about the same thing, too, in feeding you content via Netflix or a similar service. A new app on Google Play suggests Android TV may be trying to distance itself from the pack by offering up live content. Whether or not that will work is another matter entirely.
Spotted by
, an app called 'Live Channels for Android TV' is so far a dummy app, doing nothing more than existing. The description is also pretty plain, offering only the following details:
Live Channels app is for watching Live TV. Watch your favorite news, sports, movies and TV shows from various channel sources such as built-in tuner, IP-based tuners, and more and show them instantly on your Android TV.
The app doesn't show up on any device, though the Play Store says it's there. There's no way to check for content, so for now it's just a sleeper.
It's not clear what the aim is, here, but it reads like Google is making a platform available for live online streaming.
for instance, doesn't have any cable input, just an HDMI, so "live" TV would likely require a company to have their own channel via this app or mobile (and/or streaming online already).
Google tried a similar move with Google TV so many years ago, and that fell flat. Google Fiber has TV, but also a dedicated "TV Box" with a coaxial input.
Until it becomes more prominent, we'll reserve judgement. So far, there doesn't seem to be much use for it, and it's not got the Lollipop flair we've grown fond of. Google might just be testing the live TV waters again, or have prematurely released something that could end up being a killer feature for Android TV. Time will tell.
Source: