Android Q Beta 3: what's coming on which phones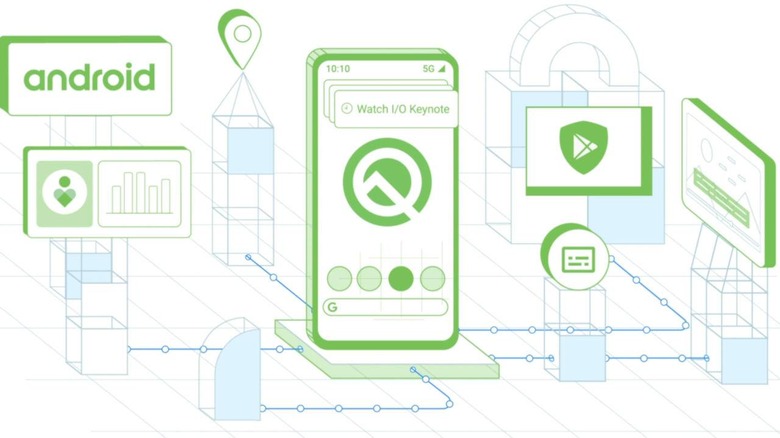 It may be a seldom-used letter but Android Q belies the importance of the release. More than just the tenth (public) version of the biggest mobile platform in the world, Android Q is piling up the improvements and new features across the board. Some may find them groundbreaking while others have already yawned at what has been revealed. We have already talked about its focus on privacy and 5G so here are the other highlights in the third beta that will be available for testing on as much as 21 phones.
There isn't a big change in the overall user interface in Android Q but the small changes might make or break it for some users. Google seems to have really gone all out on gesture navigation and is banishing the Back button once and for all. The Back action is still there, of course, but you just have to swipe from the left or right edge instead.
Google also talks about new phone experiences and nothing can be newer than foldable phones. Given Samsung's indefinite delay and the Huawei Mate X's still upcoming availability, who knows when this new experience will finally be in people's hands. Developers, however, can already try out Android Q's new screen continuity via the canary (development) version of Android Studio 3.5.
Android Q will also be making phones more usable and accessible to all kinds of users. Smart Replies will include actions to open the appropriate app, like Google Maps when receiving a street address from a chat app, to minimize the copying and pasting required. There's also a new Live Caption feature that brings real-time captions to media played on your phone, without any preparation beforehand.
And, of course, there's a dark theme at long last. Users can finally activate a system-wide dark theme manually and apps that have dark themes will switch automatically as well. For apps that don't have their own dark theme, Google is giving developers the option to have the system create a dark theme for them on the fly. They call it, Force Dark, probably without any subtle reference to Star Wars.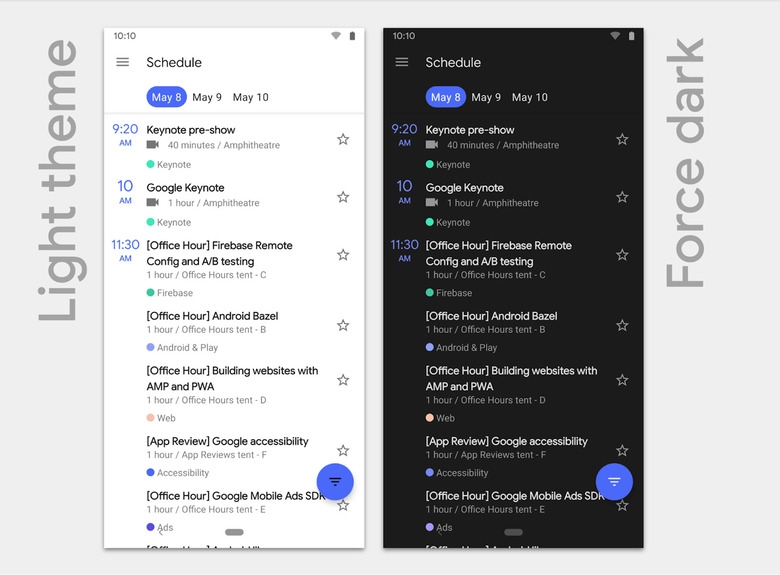 Not all changes are visible, however. Sometimes the most significant ones happen in the background. Android Q will introduce a new Project Mainline that stems from Android Oreo's Project Treble efforts. With Mainline, specific components of the OS can be updated piece by piece without requiring a full system update and all the processes that involve. Those components can be updated through Google Play like any other app. Unlike app updates, however, it seems that the changes will actually be applied only after the phone is rebooted, but on the user's own time instead of a forced one.
More than just these features, Google is also particularly proud of its new beta program. For Android P, it got 7 partners to have the betas available on 8 devices. This time, 12 brands have come together to make Android Q Beta 3 available on 21 devices. These include:
• ASUS ZenFone 5Z
• Essential PH-1
• Huawei Mate 20 Pro
• LG G8 ThinQ
• Nokia 8.1
• OnePlus 6T
• OPPO Reno
• realme 3 Pro
• Sony Xperia XZ3
• TECNO SPARK 3 Pro
• Vivo X27
• Vivo NEX S
• Vivo NEX A
• Xiaomi Mi 9
• Xiaomi Mi MiX 3 5G
• Google Pixel 3
• Google Pixel 3 XL
• Google Pixel 2
• Google Pixel 2 XL
• Google Pixel
• Google Pixel XL

Of course, six of those are from the three Pixel generations (not including the Pixel 3a and 3a XL) so that's not much of a surprise. But having 15 phones participate in a beta program is still a notable milestone for Google and Android and hopefully means these devices and manufacturers will roll out Android Q sooner when it goes gold. Unsurprisingly, Samsung isn't on that list and might have its own beta program towards the end of the year.