Canvas Tablets Do Android On A Budget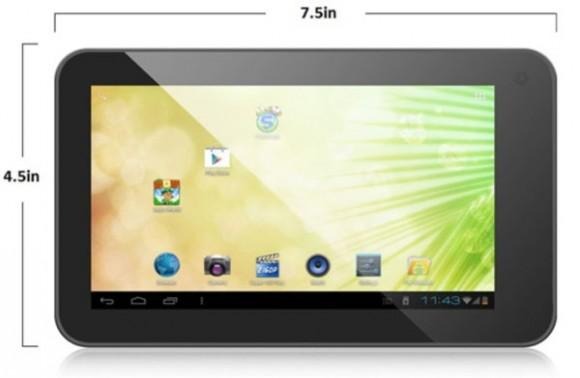 The tablet market is positively oozing with competition in the low-end segment. One of the hottest segments of the tablet market continues to be the seven-inch screen size and the segment has new products from Pardo Group this week. The new tablet series is called the Canvas Tablet.
The tablets are powered by the Android operating system and the company is aiming these tablets at parents who want a low-cost and safe tablet to give children. The tablet comes with age appropriate applications from Pardo, but has full access to the Google Play store. The tablet is being aimed at kids from 4 to 12 years old and looks just like grown-up tablets.
The seven-inch Canvas Maximo will sell for $125 while the 7-inch Canvas Minimo will sell for only $100. The Maximo has a rear two-megapixel camera that can record video and a front 0.3-megapixel camera. The processor is an Allwinner A10 Cortex A8 operating at 1.2 GHz and power comes from a 3000 mAh rechargeable battery.
Tablet has 4 GB of internal storage, runs Android 4.0, and has 512 MB RAM. It has integrated Wi-Fi, a screen resolution of 800 x 480, and it supports 3G dongles with an adapter. The Minimo uses a 1 GHz Allwinner A10 processor, has only a front camera, a seven-inch screen with 800 x 480 resolution, 4 GB of storage, and 512 MB of RAM. It also has integrated Wi-Fi and supports 3G dongles with an adapter. Either these should make tablets that are just fine for children. The only downside is they appear to have no rugged features and kids are notoriously hard on electronics.
[via Canvas Tablet Shop]