Android N Quick Settings ditch toggles
This week the newest version of Android N has arrived for Android Beta users, and with it, a relatively small change. Or a big change, depending on how often you use Quick Settings. Pulled down from the top of your Android device's screen, just above notifications, there's a grid of Quick Settings. Before, for items like Wi-Fi and Bluetooth, you were able to tap once to toggle between settings state. Now, not so much.
The reasoning for changing Quick Settings the way Google has is sound. With Bluetooth, especially, most users only turn Bluetooth on or off once in a great while, where going in to select a new Bluetooth device is an action taken more often.
On the other hand, with a setting like Wi-Fi, a user like myself only toggles off and on. Selecting a new Wi-Fi network is an activity I do very, very rarely.
Over 540 users in Android's AOSP Issue Tracker seem to agree. Yesterday a report was submitted by user Mentose.
"When clicking on wifi it should turn on or off," said Mentos. "At home I have one wifi network. At work there is only one wifi network. At school, you guessed it, one wifi network. Where does one go that there are more than one wifi network to choose from?"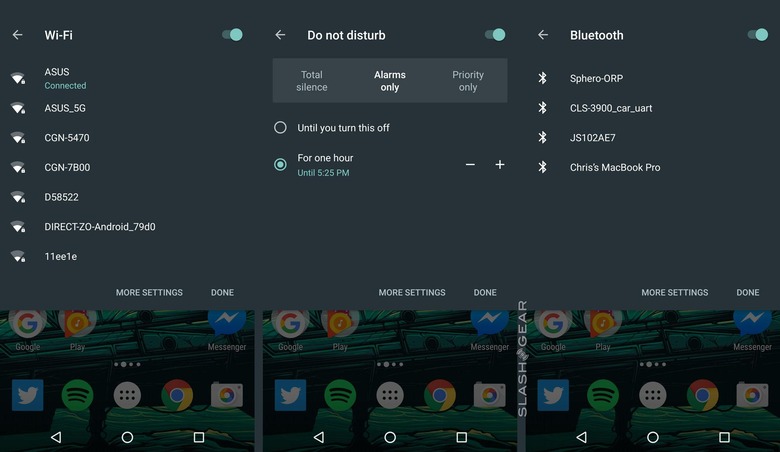 "Bluetooth, almost the same thing," said Mentos. "My car is one bluetooth device. At work I have one Bluetooth speaker. I'd rather be able to quickly turn off bluetooth (since it rapes the battery on my 5x) than have the option to choose a different device that i dont have."
I'd like to suggest a compromise: tapping each Quick Setting could do the same thing it did previous to this update. A long press on any Quick Setting would do what a tap does in this developer preview 4.
What do you think? Have you used the developer preview 4 build of Android N? If you have, has this change affected you?