Android Market To Surpass Apple's App Store In Size By August 2011?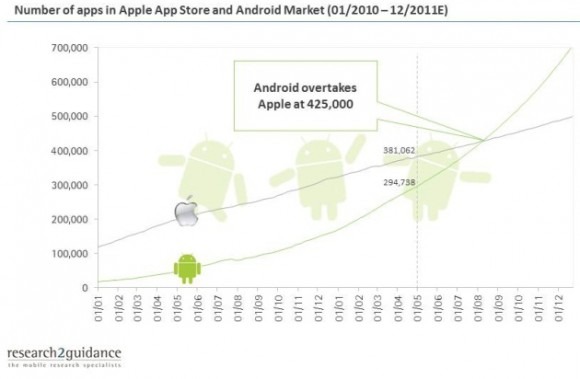 Since at least this past February, we've heard analysts predicting the size of the Android Market to surpass that of Apple's App Store. This belief is drawn from Android Market's enormous growth and the App Store's slowing down. But today's analysis goes further to claim that the size of the Android Market will surely surpass that of Apple's by August of 2011.
According to Research2Guidance, the Android Market will reach 425,000 apps by August this year, which will be greater than what's predicted to be the App Store's size by that time. The Android Market reportedly added 28,000 new apps in April, whereas Apple was behind by 11,000 new apps.
However, this prediction is only a comparison between the size of each market, which may not have any affect on actual sales numbers. Research2Guidance actually feels that Android Market's enormous growth in app quantity may actually be bad for app developers when it comes to their chances of generating revenues. They make the following note:
On the contrary, the success of an app store is negatively correlated to the success of an average developer. All analysis on the early months of an app store including the Android Market shows that average download numbers decrease dramatically after the first months or even weeks after the launch of the store. The long tail gets longer and longer while the top 5% gets richer and richer.
[via TechCrunch]