Android Market Now Offers E-Books, Next Could be Music And Movies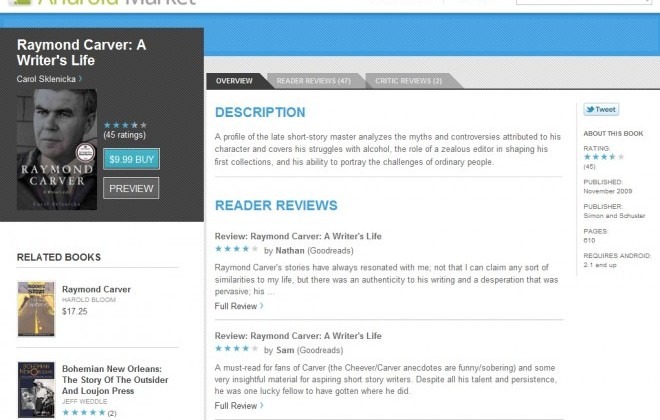 Google has just deployed a new e-books offering for the Android Market. Looking at their updated website, the navigation now has a "Books" tab sitting next to an "Android Apps" tab. From all the rumblings about a potential Google music service, there may soon be an additional two navigation tabs for music and movies.
The selection of e-books is divided into twenty categories, with the further ability to filter by new arrivals, top selling, and top free. A large slide show splash at the top of the page showcases a couple popular titles based on being top rated, new and noteworthy, bestselling, or a book club pick. It's hard to tell how comprehensive of a collection they have and the overall navigation is a bit of a pain since you cannot select how many results to show per page and large cover art thumbnails show up for each listing.
Currently the new e-books offering is not available on the mobile version of Android Market but is likely to come soon. Also likely to come soon is a Google music offering which has been rumored for some time. It is likely to be a music streaming service with the music stored in Google's cloud network that can stream the media to any of your Android devices.
NOTE: Music and Movies have all but been already discovered via intrepid Android search teams. Have a look at that story over on Android Community