Android Jelly Bean statue appears at Googleplex [UPDATE]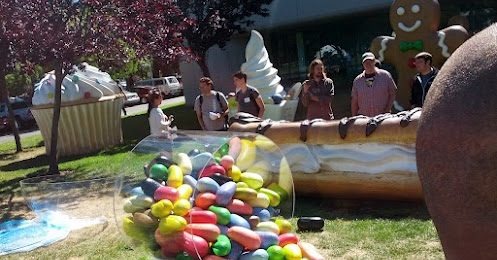 Less than 24 hours before the biggest Google developer event of the year, Google I/O 2012, over at the Googleplex the newest Android software version has been revealed: Jelly Bean. Just as suspected due to leaks, tips, and the fact that each of the treats thus far have been alphabetically inserted, Jelly Bean will come right after the update that's live now: Android 4.0 Ice Cream Sandwich. Now we've just got to figure out what version number this treat corresponds with, and of course what the actual software updates will be.
We'll be at Google I/O 2012 all week long bringing you updates on this software as well as everything else Android, Chrome, and Google's online apps as well. I/O is an event that's not to be missed by all Google-loving developers as well as seekers of the next big things in the mobile universe. Have a peek at our Jelly Bean timeline below to see everything that relates to what we've seen thus far of this ghost of an operating system as well.
The photo above comes from Google Developers on Google+, another fabulous place to check out our updates on this event at SlashGear+. And of course stay up to date through our Google I/O 2012 portal all week as we bring the updates as quick as a bunny from all corners of the software-sphere. Also don't forget the hardware – we've already seen a glimpse of what very well may be the tablet that'll be revealed this week, Nexus style – stay tuned!
UPDATE: Nothing new has been revealed on the contents of the software, but the statue has apparently been continuing to get updated throughout the day. As far as Google's Louis Gray can show, this may well be the same Android we know and love, just filled with a few more sweets than before – it's symbolism!