Android, iOS overtake Sony PSP, Nintendo DS in US portable game revenue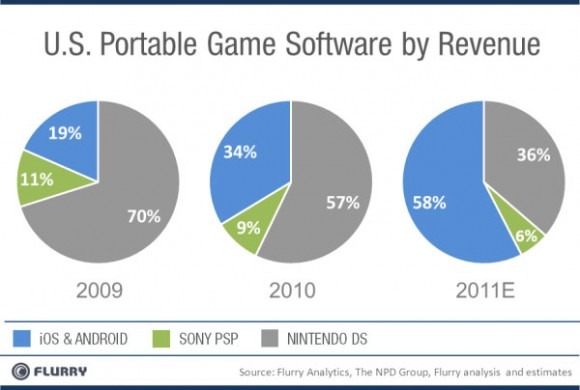 According to new data from mobile analytics firm Flurry, Apple's iOS and Google's Android devices have now taken command of the US portable gaming market. Together, they control 58 percent of the industry's revenue in 2011. That's a huge jump from just two years ago when the Nintendo DS held 70 percent of portable gaming revenue.
Gaming on mobile devices has been on the rise, but this is the first time that gaming revenue from iPhones and Android smartphones have overtaken dedicated portable gaming devices such as the Nintendo DS and the Sony PlayStation Portable.
"We see, for the first time, that smartphone revenue in the U.S. has leap-frogged portable game revenue," said Flurry's vice president of marketing Peter Fargo. "The disruption has been downright brutal."
With ever faster mobile processors as we've seen with the recently launched iPhone 4S and the upcoming Tegra 3 chips for Android tablets, smartphones will increasingly be able to play console-quality games, making the future even more bleak for dedicated portable game machines.
Nintendo reported its first loss in profit this year since 1982, caused by a decline in game and console sales, losing $925 million in the six-month period that ended in September. Its Nintendo 3DS was considered a flop and now it's attempting to turn things around with a whole new game console concept with the Wii U.
Sony's PlayStation Portable has likewise been slipping, waiting for its next iteration in the form of the PS Vita. However, reception to the PS Vita has thus far been lukewarm and the device won't arrive in most parts of the world until early next year.
[via AppleInsider]