Android gets obtrusive: KDDI tests ads in notifications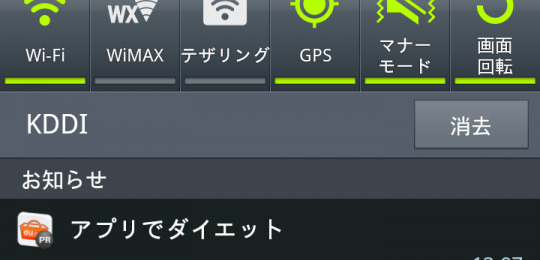 Google's advertising ambitions with Android are well known, but carrier KDDI is hoping to get in on the promotional action too with the addition of potentially obtrusive ads popping up in the notification bar. The promotions are flagged up to Japanese users in the drop-down notification area, Asiajin spotted, complete with vibration, noise and icon alerts as if it was a new SMS or app update.
The culprit is apparently the Au One Market, one of the increasing number of third-party app stores available for devices not eligible for Google's own Android Market. This particular download store is a common preload on KDDI smartphones sold in Asia, with the most recent Au One update adding support for the push advertising.
The frustration for users, however, is that there's no obvious way to turn the adverts off, nor indeed to uninstall the Au One Market baked into the ROM (or at least not without voiding the warranty). In fact, the opt-out is hidden in the EULA (End User License Agreement), a grayed-out link which is hardly the most obvious way to turn some very obvious promotions off.
It remains to be seen whether other developers and third-party app distributors follow Au One Market's approach and try to get more intrusive with their promotions. Voting "with your feet" – by uninstalling such apps – is the usual way of reacting, but if carriers begin to include such functionality in their core ROMs then users may struggle to avoid them.
[via Android Community]