Android and iOS swallow global smart device market

This week it's become apparent – if you're a follower of statistics from the analysts at IDC – that Android and Apple's iOS are very quickly eating the rest of the world's market share for mobile operating systems. Compared to last year's market share of just over 50% of the market belonging to the two titans together, this year is showing Apple and Google to be chomping off a much heavier portion with a massive 82%. Nokia's Symbian, BlackBerry, and all the rest (Linux-based and Windows Phone operating systems) are left grabbing what's left, holding on for dear life.
This information should come as no surprise for those following along with the mobile market as a whole, with Android and the iPhone busting up the charts every quarter since they were first released – the rise of the iPad and the ownership of the MP3 player market with the iPod touch only added to these numbers as the iPhone continued its rise to complete consumption of the market. Android then, of course, has no rival when it comes to the amount of devices Google has seen it pushed to, with 59% of the market being bitten off by the OS in the first quarter of this year.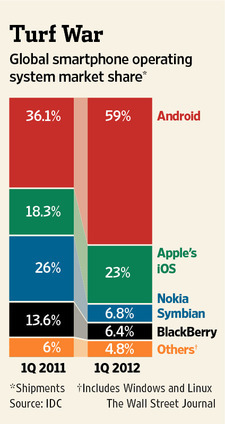 Nokia Symbian is the saddest of the pack this year, having had 26% of the market in the first quarter of 2011 and falling down to 6.8% here in the first quarter of 2012. BlackBerry has fallen from 13.6% to 6.4% in this same amount of time, and the rest of the market fell by 1.2% – this including Windows Phone and other iterations of Linux as well.
Apple's iOS didn't grow a relatively giant amount considering the larger market, growing from 18.3% to 23% year over year, but their climb does remain explosive as you consider the fact that the smartphone market has grown by leaps and bounds over the rest of the smartphone world each year. In other words, there are a whole lot more smartphones out there this year than there ever has been before, so keep that in mind!
Check out a list of quite a few recent IDC-sourced studies done over the past few months in the timeline we've got below – they've got quite the range of predictions!
[via Wall Street Journal]