Android 8.1 Wi-Fi Speed Labels rolling out now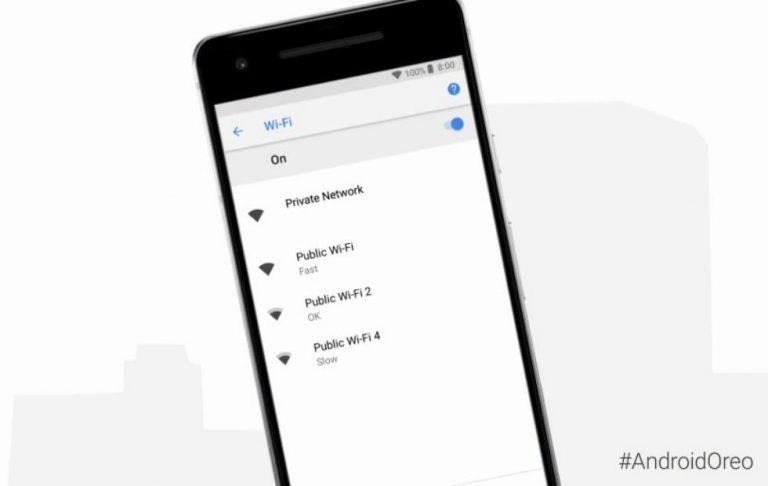 Free public Wi-Fi is becoming ubiquitous (and sometimes dangerous) that there might be more than a handful to choose from at any given time. Not all Wi-Fi hotspots, however, are created equal. Some are good, some are bad, and some are just plain horrible. To help you decide which Wi-Fi access point to connect to, at least based on speed, Google is providing a new "Speed Label" in the Wi-Fi list for Android. At least, if you're running Android 8.1.
Prior to this update to Android Oreo, there's no easy way to discern whether a potential Wi-Fi connection is good or not. Sure, you have a strength indicator in the notification area, but that only speaks about the strength of the signal and not the speed of the network. Plus, you can only find that out after you've connected to the access point.
The new Speed Labels give a more usable overview, although it isn't exactly precise either. The labels show up under the network name in the list of available Wi-Fi connections. There are four general categories and Google describes them as such:
• Slow: If you can use Wi-Fi calling, you can make phone calls and send texts.
• OK: You can read webpages, use social media, and stream music.• Fast: You can stream most videos.• Very Fast: You can stream very high-quality videos.
If for some reason you prefer not to see those labels, you can also turn them off from the Settings app under Network & Internet >  Wi-Fi > Wi-Fi Preferences >  Advanced > Network rating provider and set it to "None".
This feature was part of the Android 8.1 changes announced back in December last year but there were no signs of its rollout save for a premature announcement on Twitter earlier this month. Now it's rolling out to devices with Android 8.1, which practically limits that to the Pixel and Pixel 2 generations as well as the Nexus 6P and Nexus 5X.
Public Wi-Fi can be spotty. For the first time, #AndroidOreo 8.1 lets you take out the guesswork & see the speed of networks before you hit connect. Rolling out now: https://t.co/lSzvCFgNk7 pic.twitter.com/60EmoPxUX4

— Android (@Android) January 22, 2018