Android 3.1 packing Eee Pad Transformer supports PS3 and Xbox 360 gaming controllers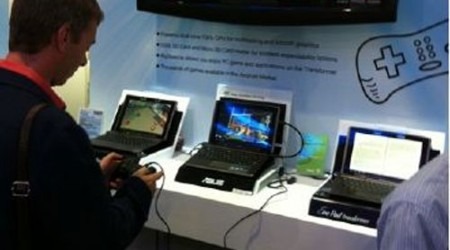 The Asus Eee Pad Transformer is one of the coolest and most desirable tablets on the market. We put up our
of the Transformer not too long ago and came away feeling pretty good about the Asus offering. We also mentioned last week that the tablet was getting an
to Android 3.1 this week. Tablets with the new update will support something new that Android gamers will really appreciate.
Once the Android 3.1 update is applied, the Transformer will support gaming controllers from the PS3 and Xbox 360. The photo attached here is from Asus UK and the guy in the photo is playing a game on the Transformer using what appears to be a PS3 controller. The controller has a wire running from it to the Transformer so if you were hoping for wireless you are out of luck. I think most won't mind the wire since gaming with the controller is likely to be a home thing for most users anyway.
The thing that is most interesting to me is that by combing your Transformer with the game controller you probably already have and the HDMI out of the tablet you can make yourself a very nice little Android game console for your living room TV. Android gaming on a big screen with a real gaming controller is something that I bet more than one Android gamer has wished for.
[
Android Community]