Android 1.6 phones get Google Maps Navigation beta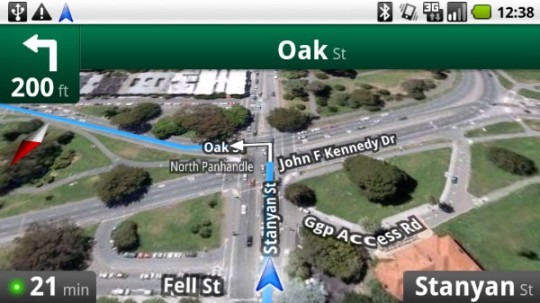 Google has obviously tired of waiting for handset manufacturers to push out Android 2.0 to existing handsets before users can play with the Google Maps Navigation beta, and as such has released the turn-by-turn software for Android 1.6 devices.  Available now in the Android Market, Google Maps Navigation for Android 1.6 delivers the same topographical layers, voice guidance and automatic rerouting as we found so useful on the Motorola DROID.
Unfortunately not all the functionality has made it across.  One of the more obvious missing features is the "navigate to" voice command shown in the demo video below; instead, Google suggest creating shortcuts to specific locations – such as your home or workplace – which can be placed directly onto the Android desktop.
As before, only US Android users have access to the Navigation beta; those outside of the country will have to wait until Google see fit to extend their testing.  If you're in the US and you have a device such as the T-Mobile myTouch 3G or the G1, you can download Google Maps Navigation now.
[via Xatakamovil]