And The First LEGO iPad App Is...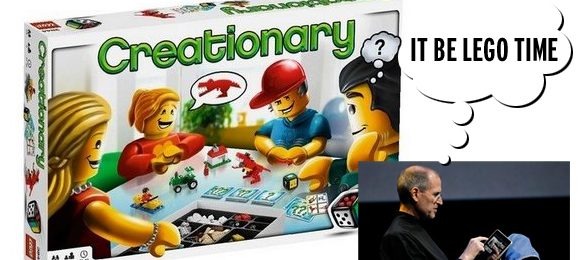 Creationary! And if that weren't cool enough, it's FREE! Incase you haven't heard of this miraculous game, it's basically the same as Pictionary, that game where you get a word, have to draw it, and your team has to guess what it is. What Creationary is is the same thing, only instead of drawing with a pencil, you're putting together a model with LEGO bricks. Now that fabulous concept is coming to the iPad. It's the "First Official LEGO® iPad Application" and it's going to be super freaking awesome. Also it's available for download right now.
One of the things that struck me when I first purchased one of these new-generation iDevices (I bought an iPod Touch) was the lack of good 2-player games. With a game like this on the rise, and you can bet it's going to be downloaded hotcakes, maybe that'll change. In this iPad version of Creationary, players "roll" to see which of 4 selected categories they will have to work with: nature, vehicles, buildings, or things.
Here's were the game differs from real life: the GAME begins building a sculpture of blocks, and the faster players guess correctly, the more points they earn. Thusly, it's also a one player game (I would suppose this is the reasoning.) Over 100 models will be available at the launch, with plans for periodic and seasonal model refeshes. Yay! Read the whole press release below:
Hours of Mobile Fun for Apple iPad, iPhone and iPod Touch Available Now for Free Download-

ENFIELD, Conn., Nov. 9, 2010 /PRNewswire/ — LEGO Systems, Inc., the North American division of the world's leading construction toy brand, today announced general availability of the first official LEGO® branded application for iPad – a true-to-the-original board game version of Creationary, which tests how quickly players can guess what is being built from LEGO® bricks. The free game works on iPad, iPhone and iPod Touch mobile devices.

Players "roll" the LEGO dice to find out which of the 4 randomly selected categories they are guessing: nature, vehicles, buildings or things. The game starts building an object from that category out of LEGO bricks, and players must guess which of the four possible answers is correct by tapping the illustration that they think matches what is being built. The faster players guess correctly, the more points they earn. As the game is played over time, the more difficult it becomes. If players guess incorrectly, the game ends. Scores can be shared with friends via email or on Facebook.

With 100 models available at launch in infinite play combinations, and plans for periodic and seasonal model refreshes, the mobile version of Creationary will delight passionate fans with an on-the-go way to play while also recruiting new fans – and families to LEGO board game play.

"LEGO bricks, whether in physical or digital form, provide hours of shared family fun, and mobile devices are a perfect way to take LEGO play on the go," said Michael McNally, brand relations director, LEGO Systems. "More than 2.5 million people are using our LEGO Photo application, so we were inspired to celebrate the success of our new LEGO board games with another app that brings LEGO bricks to life in an entirely new way."

The collection of 10 LEGO Games caters to a wide range of purchase and play occasions, ages, play types and price points. Each board game provides everything needed to start building and playing right out of the box, including customizable LEGO dice and separate building and game play instructions. LEGO Games are designed to be a new game every time they are played, encouraging children of all ages to build the game differently or change the rules and dice to keep game play fresh and exciting.

Download the free LEGO Creationary game in the App Store on iTunes. For more information on LEGO Games, visit http://games.LEGO.com or 'Like' us on Facebook.

LEGO Systems Inc. (LSI) is the Americas division of the LEGO Group, a privately-held firm based in Billund, Denmark that is the world's leading manufacturer of construction toys. The company is committed to the development of children's creative and imaginative abilities through high-quality, creatively educational play materials, and its employees are guided by the motto adopted in the 1930s by founder Ole Kirk Christiansen: "Only the best is good enough." For more information, visit www.LEGO.com

LEGO, the LEGO logo and the minifigure are trademarks of the LEGO Group. ©2010 The LEGO Group.