Ant-Man and Wasp Trailer: Let's get TINY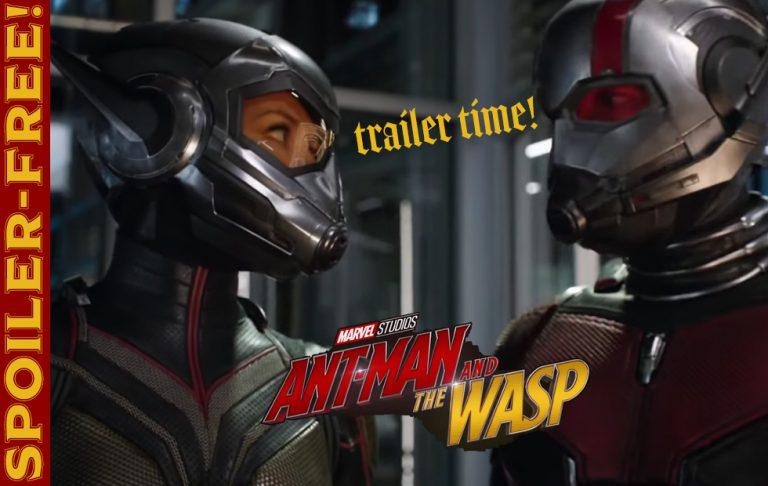 It's time for the next chapter in the Marvel Cinematic Universe – or the chapter between chapters. It's confusing. Let's discuss. Hank Pym and his daughter Hope van Dyne team up with Scott Lang to take on a new, weird, phasing sort of evil. But wait a minute – what does this mean with regard to Infinity War? Don't worry, this article has no Infinity War spoilers in it.
The trailer you're about to see shows Ant-Man and the Wasp fighting evil at a point after Ant-Man, after Captain America: Civil War, and BEFORE Infinity War. There'll be another movie coming out soon – Captain Marvel – that'll take place in the 1990's – well before most of the rest of this Marvel Cinematic Universe stuff took place.
So this Ant-Man movie probably won't have a whole lot to do with Infinity War, and most likely won't require that anyone see anything other than Ant-Man and Captain America: Civil War to see and understand it. So, you know, keep that in mind. This trailer is mostly about having fun getting tiny and getting very, very massive.
This trailer features Evangeline Lilly as the main character in the film. It still has Paul Rudd, sure, but he's mostly there to back up The Wasp. She's more of a fighting beast, after all. A few other characters that'll be popping up in the movie are:
• Maggie Lang (Judy Greer)
• Cassie Lang (abby Ryder Fortson)
• Goliath / Dr. Bill Foster (Laurence Fishburne)
• Janet van Dyne (Michelle Pfeiffer) and most importantly:
• Ghost (Hannah John-Kamen)
Ant-Man and the Wasp (2018) will be released on July 6th, 2018. That's not too far from now! It'll most certainly serve as a pause point between the two major Avengers films, and will probably serve as a great "anyone" sort of film in this time of "you need to watch every single movie for the past 10 years to understand."