Analysts estimate 35 million iPhones sold in Q1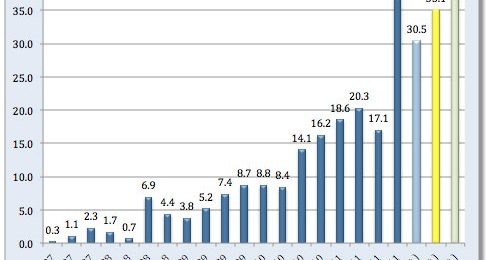 Recently, some analysts have pointed to the iPhone and its massive sales as a reason overall sales in the mobile phone market are down. Apple doesn't offer direct numbers so analysts have to estimate what they think the company sold. Estimates are pegging the iPhone to account for more than half of the company's revenue in fiscal Q2 2012.
CNN polled 48 different analysts, and of all those polled the estimates on the number iPhones sold have ranged from 26 to 44 million units sold with an average consensus of 35 million. There is a difference between Wall Street analysts and independent analysts with the average on Wall Street being 30.5 million iPhones sold.
The average among independent analysts is 37.2 million iPhones sold. CNN's 35.1 million unit number comes from an average of six analysts it says have turned in the most accurate estimates in the last five quarters. Whatever number you settle on, Apple appears to have sold a bunch of iPhones.
[via CNN]