Analysts: Apple Watch Will Hold 55% Of Smartwatch Market By 2016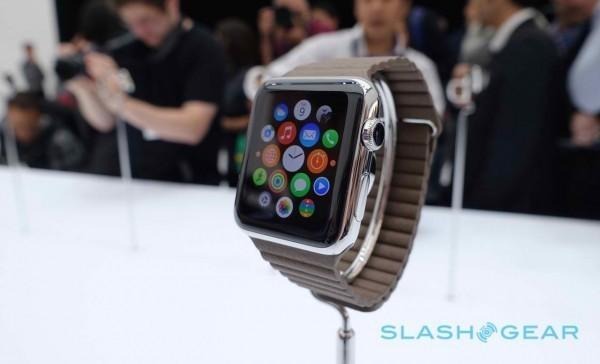 One of the flashier undercurrents of the incoming Apple Watch is how well it will sell. With about 42% of the smartphone market, domestically, Apple has a stronghold when compared to other OEMs. That doesn't necessarily relate to wearables, though, where the market is much newer and less sure. By the end of this year, research firm Strategy Analytics things Apple can make a massive impact on the market? How big? According to their forecasting, Apple will take up 55% of the smartwatch market, shipping over 15 million units.
Strategy Analytics is assuming global smartwatch movement, here. At 15.4 million sold, Apple Watch outpaces everything else, which the analysts confusingly lump into 'other'. That's a bit (read: ignorantly) dismissive of Android Wear, Apple Watch's major competing platform.
On the back of the Apple Watch, Strategy Analytics thinks the smartwatch market will boom. After sub-5 million units shipped last year, the analysts at SA think 2015 will see 28.1 million smartwatches in the wild.
That's not only an Apple Watch thing, though. Strategy Analytics' numbers show nearly three-fold growth for the 'others' in the smartwatch realm.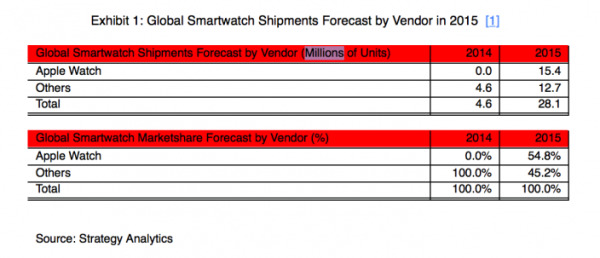 We'd previously heard Apple had ordered a 5 million unit order for the first run of Apple Watch, which is believed to launch in the US ahead of other countries. We've already seen other studies that show the Apple Watch has fans ready to buy, and could even see an immediate spike of 7-8 million users domestically.
Will the Apple Watch really cement the smartwatch industry? At least one analyst thinks so. Time and again, the popularity of Apple stuff tends to have a ripple effect throughout the industry, so it's safe to assume the overall interest in wearables will peak. The real question is how many will have the Apple Watch — or one of the 'other' smartwatches — on their wrist five years from now.
Via: 9to5Mac