Analogue launches SNES wireless Retro Receiver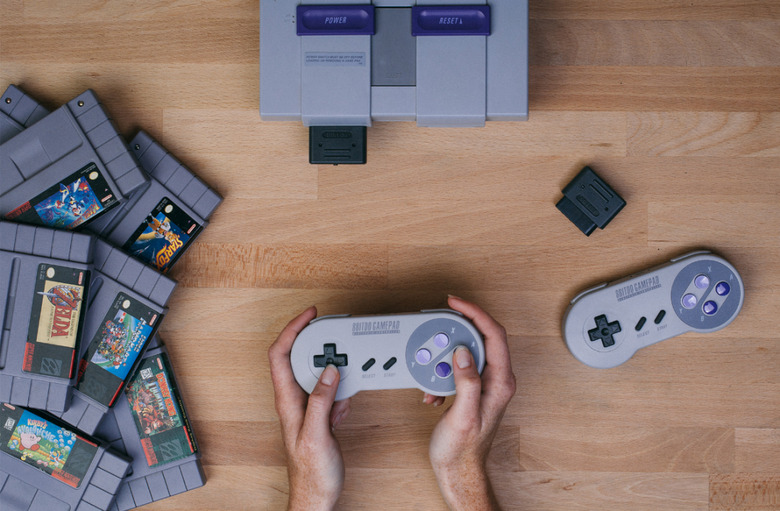 Earlier this year, Analogue released a what it called the "Retro Receiver" for the NES, which allows players to use wireless controllers with the classic console. Now Analogue is giving the same treatment to the Super Nintendo, bringing Bluetooth connectivity to the 26 year-old console. Like the Retro Receiver for the NES, the Super Nintendo version will work with most any Bluetooth controller.
This means that you'll be able to use your PS3 or PS4 controllers to play games on your Super NES, as well as Nintendo's own Wii Remote or Wii U Pro Controller. Like the NES Retro Receiver before it, this new release signals another partnership with 8Bitdo, with support for all of the company's Bluetooth controllers. 8Bitdo makes a fairly wide range of wireless controllers, including Bluetooth-capable versions of the classic SNES and NES gamepads.
Even better is the fact that SNES Retro Receiver will work with all of the console's various iterations. This not only includes all models that were released within the US, but also all of the various Super Famicom systems that were released in Japan. Finally, those who pick up a Retro Receiver can look forward to four-player wireless multiplayer, so this seems to bring a significant amount of compatibility to Nintendo's classic console.
Children of the '90s will remember the SNES fondly, as it was one of the consoles that defined the generation. All these years later, the Super Nintendo is remembered for its extensive library and excellent games, and many of which, such as Chrono Trigger, Final Fantasy VI, Super Metroid, and The Legend of Zelda: A Link to the Past, can still be found on lists that name the greatest games of all time. Analogue's new Retro Receiver can be had for $19.99, while 8Bitdo's wireless SNES controller has a retail price of $34.99.