Analog Devices Outs Low-Power HDMI Receivers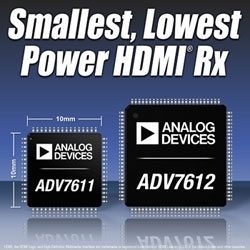 Analog Devices has announced a pair of new low-power HDMI receivers that are designed to enhance A/V system performance for home theater fans. The new receivers are the ADV7611 and the ADV7612. Both receivers are very small and are designed to enable HD and 3D support in all sorts of entertainment applications.
The receivers are very small with the 7611 measuring 10mm x 10mm x 1.6mm and the 7612 measuring 14mm x 14mm x 1.6mm. The two receivers offer at least a 50% reduction in footprint and 25% reduction in power consumption compared to other designs. Both are designed to support HDMI 1.4a.
The 7611 supports 1080p/60f resolution with 24-bit color and the 7612 offers 1080p/60f resolution with 36-bit deep color. The 7612 also used ADI's Xpressview fast switching technology for seamless switching between HDMI-enabled devices in under a second. Both receivers are available in automotive and industrial grades.