Amtrak now using iPhone to scan tickets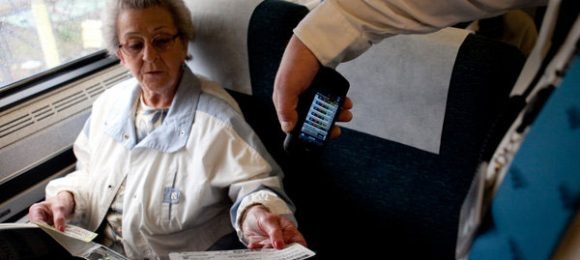 I've only ridden a few trains in my day, and the conductors always come through and punched the tickets using a hole punch to show that they've been used. I'm not sure if that's how Amtrak has always done it, but whatever method the train ticket punchers have been using is being replaced with the Apple iPhone. The iPhone is going to be used to scan tickets.
New York Times reports that conductors have been training using the device since November on some routes. The routes where the ticket scanners have been used include Boston to Portland and San Jose to Sacramento. By the end of the summer, 1700 conductors across the country will be using the iPhone to scan tickets.
The new system will allow riders to print tickets or load a barcode on their smartphone for the conductors to scan using their own iPhone. That means passengers will no longer have to print a ticket or be handed a printed ticket to ride the train. This new system will certainly streamline the process for railroads.
[via NYT]