Amputee climbs Willis Tower with mind-controlled bionic leg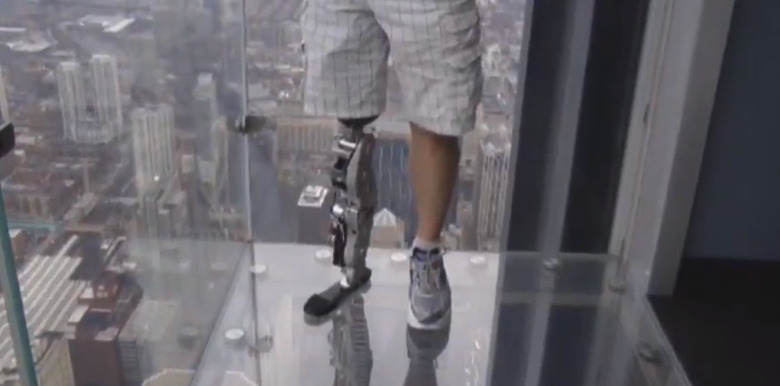 Zac Vawter, a 31-year-old who lost his right leg in a motorcycle accident, became the first person to scale the 103-story Willis Tower in Chicago with a mind-controlled robotic leg. The artificial leg uses targeted muscle reinnervation (TMR), a technique that connects nerves severed in an amputation to other muscles. In this case, the nerves that would normally control Vawter's right leg have been rerouted to his hamstring, and electrical impulses are converted into signals that move the bionic leg.
This weekend's fourth annual SkyRise Chicago fundraiser was the first public test of Vawter's bionic leg. The fundraiser is an event that sees hundreds of participants climb the 103 flights of stairs to the top of the Willis Tower in Chicago, IL (formerly called the Sears Tower, and currently the tallest building in the US). There was no guarantee that the bionic leg would work throughout the whole climb to the top, and researchers and other personnel were on hand in case the leg failed.
However, in just under an hour — 53 minutes, 9 seconds to be exact — Vawter reached the top floor of Willis Tower with no problems. Vawter was essentially the guinea pig for this new device, which is a collaboration between the US Department of Defense and several universities. Vawter says this new mind-controlled bionic leg is better than a normal prosthetic leg by leaps and bounds.
The new bionic leg weighs 10 pounds and costs a whopping $8 million. It has two motors that power the knee and ankle separately, and when Vawter pushes on the bionic leg to stand up, the leg pushes back, which propels him upward. Researchers say that mind-controlled bionic legs could make their way to the public in a decade or so.
[via Associated Press]